Anheuser-Busch
From WikiLou

Anheuser-Busch, the world's third largest brewing company in volume after InBev and SABMiller, and the largest in the United States. The company is based in St. Louis, and brews over 65 different beers and malt liquors. Anheuser-Busch's best known beers include brands such as Budweiser, the Busch and Michelob families, and Natural Light. The company also produces a number of smaller-volume and specialty beers, nonalcoholic brews, malt liquors (King Cobra and the Hurricane family), and flavored malt beverages (e.g. the Bacardi family and Tequiza). "A-B", as the company is often called, owns 12 U.S. breweries.
Holdings
Anheuser-Busch owns Busch Gardens, SeaWorld, and several other amusement parks and resorts, as well as production, transportation and packaging operations related to its beer business.
The St. Louis Cardinals baseball team was owned by Anheuser-Busch from the mid 1950s until it was sold to a group of private investors in March 1996. Busch Memorial Stadium, paid for and built by the brewery in the early 1960s, was recently demolished and replaced by a new ballpark. A-B signed an agreement for the new ballpark to retain the "Busch Stadium" name on the new building.
(1) Source: Impact: Global News and Research for the Drinks Executive, Volume 33, Nos. 19 & 20, October 1 & 15, 2003.
Advertising
The company is known for its huge advertising presence, including a sports marketing division which creates advertising material for the Super Bowl and many other sporting events. Famous Busch television campaigns have included:
Clydesdales, both wild and domesticated, such as:

The Budweiser Clydesdales pulling traditional beer wagons
Wild Clydesdales playing football (with a couple cowboys as the audience, and a zebra for a referee)
A donkey that thinks he's a horse and wants to be one of the Budweiser Clydesdales
Dalmatians, also associated with the traditional Budweiser Clydesdales iconoclasm

The "Gimme a light" spots;
Frogs saying "Bud-weis-er." The ad campaign later spawned additional characters: Louie and Frankie the chameleons and an inept ferret hit man.
The annual Bud Bowl.
The "Waazzzup" series.
The "Real American Heroes/Real Men of Genius" series of humorous radio and television ads.
They market their beer through the name NASCAR Busch Series and on Dale Earnhardt Jr's #8 Chevy Monte Carlo
Bud Man is an advertising character for Budweiser beer. He is a superhero and appears on many products aimed at coeds on University campuses. He also inspired Duff Man, a character on The Simpsons.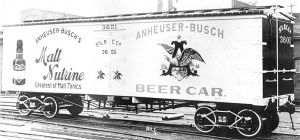 Recently, Miller Brewing began a series of commercials which featured "referees" calling "penalties" on people for drinking Bud Light (the largest selling beer in the US), and they would then take the Bud Light and replace it with Miller. Anheuser-Busch responded with their own "referees" commercials in which referees were taking people's Budweiser and keeping it for themselves. One such commercial showed the "referees" being confronted by the police.
St. Louis Corporate Headquarters and Brewery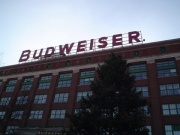 The world headquarters for Anheuser-Busch is in St. Louis. The brewery there, the largest of the Anheuser-Busch breweries, was opened in 1852 and includes three buildings that are on the register of National Historic Landmarks. At the headquarters, near downtown Saint Louis, tours of the brewery are available to the public. The tour takes visitors through the complex, and those of the legal age can enjoy two free glasses of beer at the end of the tour.
The company keeps a rotation of its famous Clydesdale horses at its headquarters, and visitors to the brewery can observe the Clydesdales in their exercise field and see their places in the carriage house. The bulk of the herd is kept at Grant's Farm in St. Louis County.
Some Beer Brands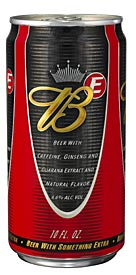 Bud Dry is a dry beer created by Anheuser-Busch in 1989. It was the first dry beer produced by an American brewer, and has fewer calories than Budweiser.
Bud Ice is an ice beer, created by Anheuser-Busch in 1994. A light beer version was also released the same year, known as Bud Ice Light.
Natural Ice, popularly known as "Natty Ice", is an ice beer introduced nationally in 1996 (though released to select markets in 1995) when the practice of "icing" beer was adopted to increase alcohol content. Due to its relatively low price and high availability, it is popular at both high school and college parties in the United States. Outside of those two markets however it is more associated with lower class culture and the phrase "Natty Drinker" is considered a derogatory term for White trash. The original light version, Natural Light ("Natty Light"), debuted in 1977.
BE (B-to-the-E) is a "specialty beer" created for the Budweiser brand. Described as a combination of a beer and an energy drink, it contains caffeine, guarana, and ginseng with 6.6% alcohol by volume. B-to-the-E is marketed with the slogan "Beer With Something Extra". It's an actual mixture of beer and energy drink, with the flavor that one would expect from such a combination.
Rolling Rock is a brand of pale lager beer distributed in green glass bottles with painted, rather than printed labels. From 1939 until 2006, Rolling Rock was brewed at the Latrobe Brewing Company. In May, 2006, Anheuser-Busch purchased the Rolling Rock and Rock Green Light brands from InBev. Anheuser-Busch began to brew Rolling Rock at the Newark brewery plant in New Jersey in mid July 2006.
Hurricane is a malt liquor brewed by Anheuser-Busch. It is almost exclusively sold in 40 oz. bottles, and is relatively cheaper than other popular malt liquor brands like Colt 45 or Olde English 800. Because of this, it is affectionately known by its drinkers as "slurricane". Although it is not the most famous malt liquor, it is definitely one of the cheapest and the most widespread.
See Also
External Links