Bill Streeter
From WikiLou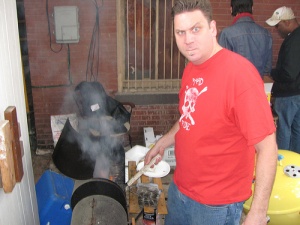 Bill Streeter (b. August 10, 1967) is an influential local video blogger who came to St. Louis from Chicago in 2001. Soon after arriving in St. Louis, Bill worked on Head in a Milk Bottle (a local punk/rock'n'roll fanzine) with his friends Bob Thurmond and Kopper. After the demise of that 'zine, Bill began to produce local mini-video documentaries on bands, artists and places of interest. In early 2005, Bill decided to create a video blog (or "vlog") to publish these videos on the Web. Thus, Lo-Fi Saint Louis was born. Bill is also the principal administrator of The Circuit, an online social networking community popular with local artists and musicians.
In early 2008, Bill launched a separate video blog, Lo-Fi Sessions, that is very similar to Lo-Fi Saint Louis, except this one features only musicians performing acoustically at City Museum with live sound, and shot with one camera and no editing.
In 2011, Bill released Brick by Chance and Fortune, a full-length documentary centered around St. Louis architecture and it's extensive use of clay brick.
External Links