East St. Louis
From WikiLou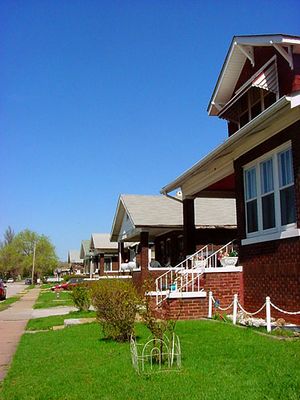 East St. Louis is a city located in St. Clair County, Illinois, directly across the Mississippi River from St. Louis. As of the 2000 census, the city had a total population of 31,542. One of the highlights of the city's waterfront is the Gateway Geyser, the world's tallest fountain, which spews water to a height of 600 feet and is designed to mirror the Gateway Arch across the river in St. Louis.
East St. Louis is one of the more impoverished communities in Illinois, and has suffered a substantial loss in population during the past few decades. The decline of industrial activity has brought about widespread unemployment for those who remain. The city is de facto segregated with a large African American population. In addition, East St. Louis is consistently ranked among the most crime-ridden cities in the nation.
Registered Historic Places
History
Several destructive tornadoes have hit East St. Louis, the deadliest being the St. Louis-East St. Louis Tornado of 1896 which killed at least 255, injured over 1000, and incurred an estimated $2.9 billion in damages (1997 USD).
The Great Railroad Strike of 1877 and The St. Louis Commune
A period of extensive industrial growth following the Civil War eventually brought about a major economic collapse known as the Panic of 1873 due to railroad and other manufacturing expansion, land speculation and general business optimism caused by large profits from inflation. The economic recession began in the east and steadily moved west, severely crippling the railroads, the main system of transportation. In response to the difficulties railroad companies began dramatically lowering workers' wages, forcing employees to work without pay as well as cutting jobs and the amount of paid work hours. These wage cuts and additional money saving tactics used by the industry prompted strikes and unrest on a massive scale.
While most of the strikes in the eastern cities during 1877 were accompanied by violence and mayhem, the late July St. Louis strike was marked by a bloodless, efficient and quick take-over of commerce and transportation in the area by dissatisfied workers. By July 22, the St. Louis Commune began to take shape as representatives from almost all the railroad lines met in East St. Louis soon electing an executive committee to command the strike and issuing General Order No. 1, halting all railroad traffic other than passenger and mail trains. The mayor of East St. Louis, John Bowman, was appointed arbitrator of the committee and helped the committee to select special police to guard the property of the railroads from damage. The strike and the new socialistic de facto workers' government, while given encouragement by the German-American Workingman's Party and the secret Order of the Knights of Labor (two key players in the organization of the Missouri general strike), was run by no organized labor group. The strike reached the business sector with the easy closing of the packing houses surrounding the National Stockyards (though at one plant 125 cattle were allowed to be processed in return for 500 cans of beef for the workers, a deal with which they quickly agreed). The strike continued to gain momentum from there with different regions and workers asking to join in. Though the East St. Louis strike continued in a completely orderly fashion, across the river there were isolated incidents of misconduct prompting Harry Eastman, the East St. Louis workers representative, to address the mass of employees: "Go home to your different wards and organize your different unions, but don't keep coming up here in great bodies and stirring up excitement. Ask the Mayor, as we did, to close up all the saloons... keep sober and orderly, and when you are organized, apply to the United Workingmen for orders. Don't plunder ... don't interfere with the railroads here ... let us attend to that".
On July 28 the strike was peacefully ended with the retaking of the relay depot, the Commune's relative command center, by United States troops. [1]
The Riots of 1917
<youtube v="7lZPGL1u0XI" />
East St. Louis in 1917 had a strong economy boosted by World War I. In response, many African Americans were recruited to work at the Aluminum Ore Company and the American Steel Company. However, resentment on the part of whites planted a fear of job security in the population, which eventually manifested itself in rumors at a labor meeting on May 28 of black men and white women fraternizing. Immediately, 3000 people from the meeting rushed downtown, beating every African American in sight. They destroyed buildings and attacked people, 39 people were killed including nine white persons. The National Guard was called in, preventing further rioting, but rumors continued to circulate about an organized attack from the blacks.
On July 1, 1917, a black man shot his white attacker, which was retaliated with a drive-by shooting. When police came to investigate, the African American who had been attacked returned fire, thinking them to be the drive-by shooters from before. The next morning, thousands of racist white spectators who saw the bloodstained automobile as an excuse to march into the black section of town and started rioting. After working with local police, fire fighters, and elected officials, they allowed cutting of the water hoses in the fire department. This decision gave the rioters the capability to burn large swaths of the city, shooting the inhabitants as they escaped the flames. Claiming that "Southern niggers deserve a genuine lynching," they hanged several blacks. Guardsmen were called in, but several accounts reported that they joined in the rioting rather than trying to stop it. Almost everyone participated, including "ten or fifteen white women, [who] chased a negro woman at the Relay Depot in broad daylight. The girls were brandishing clubs and calling upon the men to kill the woman."
Famous Residents
After surviving the 1917 race riots in East St. Louis, Josephine Baker ran away at 13 to dance in vaudeville, on Broadway and, eventually, with the Folies Bergère in Paris, where she became one of the best-known entertainers in Europe. During World War II she gathered intelligence for the French Resistance.
A dancer, choreographer, anthropologist and author, Katherine Dunham introduced U.S. and European audiences to Caribbean- and African-based dance movements. East St. Louis is home to the Katherine Dunham Museum, which houses collections of African and Caribbean folk and contemporary art and items documenting the life and works of Katherine Dunham. It is operated by the Katherine Dunham Centers for Arts and Humanities, a non-profit multi-disciplinary arts organization founded by Dunham. The organization promotes and preserves Dunham's legacy of anthropological writings, films and works of visual arts. The Centers also operate a year-round arts training program for children age 6-17 and an annual two-week seminar in the Dunham Technique through its Institute for Inter-cultural Communication, which attracts dancers, choreographers and scholars from around the world. All of the programs emphasize Dunham's unique concept of "humanization and socialization of individuals and communities through the arts."
Recent East St. Louis
East St. Louis retained a modicum of prosperity into the 1950's, when its population reached a peak of 82,295 residents. But as a number of local factories began to close, financial conditions deteriorated, ironically just as Black migration from the south was reaching its peak. Mayor Alvin Fields, who had been elected in 1951, resorted to judgment funding procedures to try to buy the city out of its financial morass. The scheme increased the city's bonded indebtedness and the property tax rate. More businesses closed and crime increased. Street gangs such as the War Lords, Black Egyptians, 29th Street Stompers and Hustlers appeared in Black neighborhoods. In September of 1967, rioting occurred in the predominantly-Black South End, and in the summer of 1968, a still-unsolved series of snipings took place. These actions further destroyed the downtown retail base and the city's income.

Desperation led to East St. Louis being something of a "guinea pig" for every new Federal program that came along — the Model Cities program, the Concentrated Employment Program and Operation Breakthrough. The programs did little to prevent the inevitable. The noted architect R. Buckminster Fuller suggested putting the entire city under a geodesic dome. In 1971, James Williams was elected as the city's first black mayor, but he too failed to slow the city's skid. By the election of Carl Officer as mayor in 1979, many said the city had nowhere to go but up, yet, incredibly, things grew even worse. Sewers failed; garbage pickup ceased because the city could not pay the haulers. City Hall was awarded to the plaintiff in a lawsuit against the city. Police cars often didn't work, and neither did their radios.
This state of affairs continued until the state imposed a financial advisory board over the city in exchange for a bailout. The election of Gordon Bush as mayor in 1991 and the coming of the Casino Queen gambling casino provided the first new income for the city in nearly 30 years. Sporadic efforts at redevelopment occur from time to time, but population continues to dwindle. Furthermore, many beautiful and historic buildings are crumbling and will soon be lost forever. East St. Louis is notorious for crime and drugs, and for a cluster of insalubrious strip clubs.
Geography
East St. Louis is located at 38°36'56" North, 90°7'40" West (38.615550, -90.127825).
According to the United States Census Bureau, the city has a total area of 14.4 mi². 14.1 mi² of it is land and 0.4 mi² of it is water. The total area is 2.56% water.
East St. Louis usually experiences cold winters and warm summers. On July 14, 1954 the temperature at East Saint Louis unexpectedly rose to 117°F, the highest temperature ever recorded in Illinois.
Crime
East St. Louis is one of the most crime-ridden cities in the nation. According to FBI's data of 2004, its murder rate hit 63.4 per population of 100,000, surpassed that of murder-infamous cities such as Camden, New Jersey (61.3 per pop. 100,000), New Orleans, Louisiana (54.5), Gary, Indiana (52.6), Richmond, Virginia (47.0), Baltimore, Maryland (42.4), Detroit, Michigan (40.5), and Washington, D.C. (34.6), as well as that of its neighbor St. Louis (32.5). Their data also showed East St. Louis' very high rape rate, which exceeded 200 per pop. 100,000.
The following table shows East St. Louis' crime rate in 6 crimes that Morgan Quitno uses for their calculation for "America's most dangerous cities" ranking, in comparison of those of St. Louis and New York City.
General Crime Stats
| Crime | East St. Louis | National Average |
| --- | --- | --- |
| Murder | 83.8 | 6.9 |
| Rape | 251.3 | 32.2 |
| Robbery | 1,347.0 | 195.4 |
| Assault | 5,847.3 | 340.1 |
| Burglary | 2,442.8 | 814.5 |
| Automobile Theft | 2,067.5 | 526.5 |
2004 Crime Stats
Source: City-Data.com, Year: 2004 number of crimes per 100,000.
| | | | |
| --- | --- | --- | --- |
| Crime | East St. Louis | St. Louis | New York |
| Murder | 63.4 | 32.5 | 7.1 |
| Rape | 228.3 | 31.9 | 17.8 |
| Robbery | 760.9 | 755.9 | 304.3 |
| Assault | 6,131.5 | 1,160.6 | 366.1 |
| Burglary | 2,948.4 | 1,809.4 | 325.9 |
| Auto Theft | 1,968.8 | 2,559.5 | 263.1 |
2005 Crime Stats
Source: City-Data.com, Year: 2005 number of crimes per 100,000.
| | | | |
| --- | --- | --- | --- |
| Crime | East St. Louis | St. Louis | New York City |
| Murder | 63.4 | 37.6 | 6.7 |
| Rape | 342.4 | 79.3 | 17.6 |
| Robbery | 954.3 | 851.5 | 308.7 |
| Assault | 6,489.8 | 1,421.9 | 349.0 |
| Burglary | 2,520.4 | 2,071.6 | 289.8 |
| Auto theft | 2,000.5 | 2,339.5 | 229.5 |
Transportation
East St. Louis is home to 4 Metrolink Stations; East Riverfront, 5th and Missouri, Emerson Park, and JJK Center.
Demographics
As of the census of 2000, there were 31,542 people, 11,178 households, and 7,668 families residing in the city. The population density is 2,242.9/mi². There are 12,899 housing units at an average density of 917.2/mi². The racial makeup of the city is 1.23% White, 97.74% African American, 0.19% Native American, 0.08% Asian, 0.03% Pacific Islander, 0.19% from other races, and 0.55% from two or more races. 0.73% of the population are Hispanic or Latino of any race.
There are 11,178 households out of which 33.2% have children under the age of 18 living with them, 21.9% are married couples living together, 40.6% have a female householder with no husband present, and 31.4% are non-families. 27.8% of all households are made up of individuals and 10.4% have someone living alone who is 65 years of age or older. The average household size is 2.80 and the average family size is 3.42.
In the city the population is spread out with 32.8% under the age of 18, 9.7% from 18 to 24, 24.6% from 25 to 44, 20.3% from 45 to 64, and 12.5% who are 65 years of age or older. The median age is 31 years. For every 100 females there are 81.5 males. For every 100 females age 18 and over, there are 72.5 males.
The median income for a household in the city is $21,324, and the median income for a family is $24,567. Males have a median income of $27,864 versus $21,850 for females. The per capita income for the city is $11,169. 35.1% of the population and 31.8% of families are below the poverty line. Out of the total population, 48.6% of those under the age of 18 and 25.2% of those 65 and older are living below the poverty line.
Trivia
East St. Louis was mentioned on an episode of The Simpsons as one of the 300 most liveable cities in America coming in right below Springfield as number 300.
During the 1970's, the sewage system in East St. Louis failed because, with a massive population drop, there was no longer enough flow for the system to function.
Another The Simpsons episode mentions East St. Louis when Homer flees the country to open a casino on a tropical island.
On another episode of the Simpsons, Homer mistakenly brings Barney to the AAA rather than the AA. Homer then inquires about a trip to East St. Louis, stating "Is there any other St. Louis"
On That 70's Show Kitty states that Red is going to turn their home into East St. Louis with his drug dealing
On the April 17th, 2006 episode of WWE RAW Vince McMahon stated that he thought he was in hell, but his driver just made a wrong turn into East St. Louis
Father Charles O'Malley of "Going My Way" and "The Bells of St. Mary's" was from East St. Louis, and sang the "East St. Louis High" alma mater ("Hail alma mater, thy time-honored halls shall echo with our praise till we die, and round our hearts are the ivy-covered walls of East St. Louis High.") in "Going My Way".
In an episode of Leave it to Beaver, Hugh Beaumont (Ward Cleaver) mentioned that Barbara Billingsley (June Cleaver) was the "Former Belle of East St. Louis"
Bryan Cox (Former NFL player and Western Illinois Football player) has been a huge philanthropist for East St. Louis High School and Western Illinois University.
The East St. Louis Fire Department went on strike in the 1970's and when their demands were not met they retaliated by setting several fires within the city.
In the 1970's during the energy crisis, the East St. Louis Public School District conserved energy by turning out the lights during half time of basketball games.
The Casino Queen in East St.Louis is the only casino in America that is surrounded with guard towers and concertina wire.
External Links
Map
<googlemap lat="38.611049" lon="-90.114301" zoom="11" width="700" controls="large">38.611049, -90.114301, East St Louis, IL, USA</googlemap>
References
Heaps, Willard Allison. "Target of Prejudice: The Negro." Riots, U.S.A., 1765–1970. New York: The Seabury Press, 1970. 108–117.
Kozol, Jonathan. "Life on the Mississippi." Savage Inequalities: Children in America's Schools. Crown, 1991. 7–39. ISBN 0-517-58221-X
"Race Rioters Fire East St. Louis and Shoot or Hang Many Negroes; Dead Estimated at from 20 to 76." New York Times 3 July, 1917.