Edward Jones Dome
From WikiLou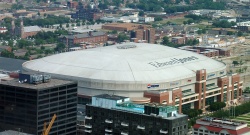 The Edward Jones Dome is a 66,000 seat football stadium in St. Louis, and home of the St. Louis Rams. It was constructed largely to lure an NFL team back to St. Louis, and to serve as a convention center. Completed in 1995, it was known as the Trans World Dome, after Trans World Airlines, until 2001, when TWA was acquired by American Airlines. The facility was then briefly known as the Dome at America's Center (America's Center being the adjacent convention facility) until the naming rights were acquired on January 25, 2002 by Edward Jones Investments, a brokerage house based in St. Louis.
Seating levels include: a private luxury suite level, a private club seat and luxury suite level, a concourse level (lower bowl) and terrace level (upper bowl). The dome was completed in 1995.
In 1999 when Pope John Paul II held mass in the stadium. Over 104,000 people attended the service. Interestingly enough, that same year it also hosted WCW Slamboree. Also in 1999 the Rev. Billy Graham held "The Greater St. Louis Billy Graham Crusade" with well over 200,000 people attending in its four days.
In April 2005, the Edward Jones Dome hosted the 2005 NCAA Men's Division I Basketball Tournament Final Four where the University of Louisville, the University of Illinois, Michigan State University, and the University of North Carolina faced off, with UNC winning the National Championship game against the University of Illinois. It will host the NCAA Men's Basketball St. Louis Regional for the 2007 NCAA Men's Division I Basketball Tournament and the Women's Final Four for the 2009 NCAA Women's Division I Basketball Tournament. The dome was the site of the 1996 and 1998 Big 12 football conference championship games.
In 2006, Edward Jones Dome became the home of the Urbana missions conference run by InterVarsity Christian Fellowship; because the event outgrew its former home on the University of Illinois campus.
In May 2005, the St. Louis Rams announced that the dome would use FieldTurf instead of the antiquated, 10-year old AstroTurf. The surface is a one-year plan until a more flexible surface can be made with access to the power outlets on the dome's concrete floor. After the 2005 season the Rams announced that the FieldTurf would be torn up and be replaced with another temporary FieldTurf surface for the 2006 season. The facility continues to use FieldTurf as of the 2007 season.
Contact Information
701 Convention Plaza
St. Louis, MO 63101
Phone: (314) 342-5201
External Links
Map
<googlemap lat="38.633081" lon="-90.18827" zoom="16" width="700"> 38.633148, -90.188634, Edward Jones Dome, St Louis, MO 63101, USA </googlemap>