Interstate 55
From WikiLou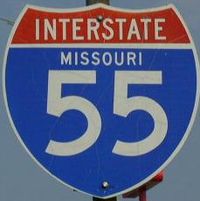 Interstate 55 runs from the Poplar Street Bridge over the Mississippi River in St. Louis to the Arkansas border to the south.
Sponsorship Controversy
The Klu Klux Klan began fighting several court battles with the State of Missouri after the state disputed its right to sponsor a stretch of highway. In March 2004, after a U.S. District Court judge found that blocking the Klan's sponsorship was unconstitutional, the Court of Appeals ruled that the state must erect signs announcing the group's sponsorship. However, the Missouri Legislature later voted to rename the stretch of I-55 the "Rosa Parks Highway" in honor of the Montgomery civil rights hero. The Klan was eventually dropped as a sponsor on April 4, 2005, on the grounds that for the duration of their sponsorship, they had not once cleaned the highway.
Photos of Interstate 55