Interstate 70
From WikiLou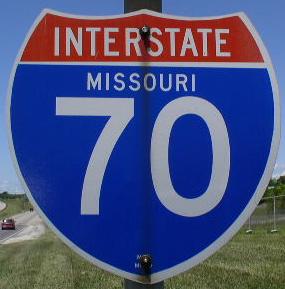 Interstate 70 is one of the oldest interstates in the nation. Construction bids on sections of I70 in St. Charles County were released during the Summer of 1956.
The highway comes from Kansas City through St. Louis on the way to Indianapolis. In St. Louis, it goes through parts of North St. Louis city and by Lambert Saint Louis International Airport before crossing on the Poplar Street Bridge.
It crosses the Missouri River on the Blanchette Memorial Bridge. Originally 4 lanes in St. Charles County, major development took place during the 1970s through 1990s on this section. It led to major widening, and building of a second span of the Blanchette Bridge in the late 1970s.
Between 1998 and 2005, major improvements occurred inside the 270-255 Loop. The problem known as the Bermuda Triangle was corrected, and several bridges and overpasses were replaced.
The section of I-70 in Downtown St. Louis is known as the Depressed Section. This section is only 4 lanes wide, unlike the rest of I-70. This section is occasionally treated as a north-south highway instead of east-west.
After crossing on the Poplar Street Bridge, it joins with Interstate 55 for 20 miles, until the split in Troy. After the split, instead of mile markers starting with 21, the mile markers are consistent with Interstate 270 in Illinois. As a result, I-70 is actually 5 miles longer than what is marked on the mile markers.
List Of Exits Interstate 70
CITY LIMITS OF MISSOURI
St. Charles County
EXIT 208 Wentzville Parkway
EXIT 209 Route Z, Church St
EXITS 210A-B Highways U.S. 40 / U.S. 61 Wentzville, Hannibal, St. Louis, Chesterfield
EXIT 212 Highway A
EXIT 214 Lake St. Louis Blvd
EXIT 216 Bryan Rd
EXIT 217 Routes K / M O' Fallon
EXIT 219 T.R. Hughes Rd, Belinda Creek Rd
EXIT 220 Highway 79 Elsberry, Louisiana, Clarksville
EXIT 222 Route C, Mid Rivers Mall Dr
EXIT 224 Highway 370 EAST
EXIT 225 Cave Springs Rd & Truman Blvd
EXIT 227 Zumbehl Rd
EXIT 228 Highway 94 First Capitol Dr, Weldon Spring
EXIT 229 Business Loop 70, Fifth St
EXIT 229A Fifth St, SOUTH
EXIT 229B Business Loop 70 NORTH, Fifth St
EXIT 229A-B Business Loop 70, Fifth St
St. Louis County, Maryland Heights
EXITS 231A-B Earth City Expressway
EXIT 231A Earth City Expwy SOUTH
EXIT 231B Earth City Expwy NORTH
EXITS 231A-B Earth City Expressway
EXIT 232 Interstate 270 Chicago, Memphis
270 NORTH Chicago<>270 SOUTH Memphis
270 SOUTH Memphis<>270 NORTH Chicago
EXIT 232 Interstate 270 Memphis, Chicago
EXIT 234 Route 180, St. Charles Rock Rd
EXITS 235A-B Route 67, Lindbergh Blvd
EXIT 235A 67 SOUTH, Lindbergh Blvd
EXIT 235B 67 NORTH, Lindbergh Blvd
EXITS 235A-B Route 67, Lindbergh Blvd
EXIT 235C Route B, Cypress Rd, Airport, Hunter Rd
EXIT 236 Lambert St. Louis Airport
EXIT 237 Route 115 EAST, Natural Bridge Rd
EXIT 238A Lambert St. Louis Airport
EXITS 238C-B Interstate 170
EXIT 238B 170 SOUTH, Clayton
EXIT 238C 170 NORTH
EXITS 238B-C Interstate 170
EXIT 239 N. Hanley Rd
EXIT 240 Route N, Florissant Rd, University Blvd
EXIT 240A N, Florissant Rd, University Blvd<>EXIT 240B 70 WEST, Kansas City, N. Hanley Rd
EXITS 240A-B Route N, Florissant Rd, University Blvd, N. Hanley Rd
EXIT 241A Bermuda Rd
EXIT 241B Route U, Lucas & Hunt Rd
EXIT 242 Jennings Station Rd, Goodfellow Blvd
EXIT 242A Jennings Sta. Rd SOUTH
EXIT 242B Jennings Sta. Rd NORTH
EXITS 242A-B Jennings Station Rd
City Of St. Louis
EXIT 243A Goodfellow Blvd
EXIT 243B Riverview Blvd
EXIT 243C Bircher Blvd
EXIT 244A Union Blvd, Kingshighway
EXIT 244A Union Blvd
EXIT 244B Kingshighway
EXIT 245A Sherve Ave
EXIT 245B W. Florissant Ave
EXIT 246A O' Fallon Park
EXIT 246A Broadway
EXIT 246B Adelaide Ave
EXIT 247 Grand Blvd
EXIT 248A Sailsbury St, Mc Kinley Bridge
EXIT 248B Branch St
EXIT 248C St. Louis Ave
EXIT 249A Tenth St
EXIT 249A Madison St
EXIT 249C Convention Center, Broadway, Busch Stadium
EXIT 249D Broadway
EXIT 250A M. L. King Bridge, Illinois, Arch-Riverfront
EXIT 250B Downtown, Busch Stadium EXIT ONLY
EXIT 251A I-44 WEST & I-55 SOUTH, Tulsa, Memphis / I-55 NORTH I-70, I-64, U.S. 40 EAST, Illinois / EXIT 250B Memorial Drive, Arch-Riverfront / EXIT 250B Downtown, Pine St
EXIT 251A I-44 WEST & I-55 SOUTH, Tulsa, Memphis / I-55 NORTH, I-70, I-64, U.S. 40 EAST, Illinois
I-70 WEST, Kansas City / EXIT 251B Memorial Dr, Arch-Riverfront, Convention Center EXIT ONLY
I-70 WEST Kansas City / EXIT 251C Downtown / EXIT 251C Memorial Drive
EXIT 209B I-70 WEST / EXIT 209A Downtown / I-55 NORTH I-64, I-70, U.S. 40 EAST, Illinois EXIT ONLY
EXITS 209B-A WEST I-70 / Downtown / I-55 NORTH I-64, I-70 U.S. 40 EAST, Illinois
Photos of Interstate 70 Missouri