Johnnie Johnson
From WikiLou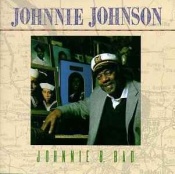 Johnnie Johnson
(July 8, 1924 – April 13, 2005) was a piano player and blues musician whose work with
Chuck Berry
led to his induction into the Rock and Roll Hall of Fame.
He was born in Fairmont, West Virginia near Pittsburgh and began playing piano in 1928. He joined the United States Marine Corps during World War II where he was a member of Bobby Troup's all serviceman jazz orchestra, The Barracudas. After his return, he moved to Detroit and then Chicago, Illinois, where he sat in with many notable artists, including Muddy Waters and Little Walter. He moved to St. Louis in 1952 and immediately put together a jazz and blues group, The Sir John Trio with drummer Ebby Hardy and saxophonist, Alvin Bennett. The three scored a regular gig at the Cosmopolitan Club in East St. Louis. On New Years Eve 1952, Alvin Bennett had a stroke and could not perform. Johnson, searching for a last minute replacement, called a young man named Chuck Berry, an ex-convict and the only musician Johnson knew who because of his inexperience, would likely not be playing on New Years Eve. Johnson was right. Although a limited guitarist, Berry added vocals and showmanship to the group. Since Bennett would not be able to play again because of his stroke, Johnson hired Berry as a permanent member of the Trio. They would remain the Sir John's Trio until Berry took one of their tunes, a reworking of the Bob Wills' classic, Ida Red to Chess records in Chicago. The Chess brothers liked the tune and soon the Trio were in Chicago recording Maybellene named after the mascara and Wee Wee Hours a song Johnson had been playing as an instrumental for years for which Berry penned quick lyrics. By the time the trio left Chicago, Berry had been signed as a solo act and Johnson and Hardy became part of Berry's band. Said Johnson, "I figured we could get better jobs with Chuck running the band. He had a a car and rubber wheels beat rubber heels any day." Over the next twenty years, the two collaborated in the writing and arrangements of many of Berry's songs including "School Days", "Carol", and "Nadine." The song "Johnny B. Goode" though about a guitarist, was actually a tribute to Johnson. It was also one of the few recordings Johnson did not play on as Berry recorded it as a surprise for him. The pianist on the "Johnny B. Goode" session was Lafayette Leake, a gifted pianist who could mimic any style. Leake has been credited with playing on quite a few Berry songs that were actually originally recorded with Johnson, including "Sweet Little Sixteen", the original Johnson version of which can be heard on the album Rock and Roll Rarities. Berry supporters often cite Chess discography and personnel listings that credit Leake and Otis Spann's playing on some recordings as evidence that Johnson did not collaborate with Berry on the music. In doing so, they neglect to consider the fact that Johnson and Berry collaborated on the music prior to the actual recording or, as in the case with Sweet Little Sixteen, the song was re-recorded and the second version released with the piano pushed more up front (showing obvious editing as the piano was often very low in the original mixes). Secondly, and Phil Chess readily admits this, the listings were often wrong as they were done well after the fact. Evidence of this is that for many years, Jaspar Thomas, not Ebby Hardy, was listed as the drummer on the first Berry session. Berry and Johnson didn't even know Thomas, a St. Louis jazz drummer hired after Ebby Hardy left the group, until 1957! Berry and Johnson played and toured together until 1973. Although never on his payroll after 1973, Johnson played occasionally with Berry until his death in 2005.
Johnson was known to have a serious drinking problem. In Chuck Berry's autobiography, Berry tells of how he declared there would be no drinking in the car, while on the road. Johnson and band-mates complied with the request by putting their heads out the window. Johnson denied the story but said he did drink on the road. Johnson quit drinking entirely in 1991 after nearly suffering a stroke on stage with Eric Clapton.
Johnson received very little recognition until the Chuck Berry concert/documentary Chuck Berry Hail! Hail! Rock 'n' Roll in 1987. During the documentary, Keith Richards observed that Berry's songs were in piano keys or Johnnie Johnson keys and that it was obvious that Johnnie had collaborated on the music with Berry. That attention helped Johnson, who was a bus driver in St. Louis, Missouri at the time, return to music. He recorded his first solo album, Blue Hand Johnnie, that same year. He later performed with Keith Richards, Eric Clapton, John Lee Hooker and Bo Diddley. In 1996 and 1997, Johnson toured with Bob Weir's (of the Grateful Dead) Ratdog, playing 67 shows.
In 1999, Johnson's biography was released, Father of Rock and Roll: The Story of Johnnie B. Goode Johnson by 23-year-old Travis Fitzpatrick. The book was nominated for a Pulitzer prize by Congressman John Conyers and garnered Johnson more recognition.
In November 2000, Johnson sued Berry, alleging he deserved co-composer credits (and royalties) for dozens of songs, including "No Particular Place To Go", "Sweet Little Sixteen", and "Roll Over Beethoven", that credit Berry alone. Despite solid evidence backing Johnson and Berry's admission of Johnson's role as co-writer in mediation, the case was dismissed in less than a year because too many years had passed since the songs in dispute were written.
In 2001, he was inducted into the Rock and Roll Hall of Fame after a tireless and unprecedented campaign by businessman George Turek, author Travis Fitzpatrick and Rolling Stone guitarist, Keith Richards. He also has his on star on the St. Louis Walk of Fame.
A documentary about Johnson by St. Louis newsman and filmmaker, Art Holliday, is currently in production
Discography
1991 : Johnnie B. Bad (Warner) with Eric Clapton, Keith Richards...
1991 : Rockin' eighty-eights (Modern Blues recordings) with Jimmy Vaughn and Clayton Love
1993 : Blue hand Johnnie (Evidence Music) with Oliver Sain
1993 : That'll work (Elektra) with The Kentucky Headhunters and Jimmy Hall
1995 : Johnnie be back (MusicMasters) with Buddy Guy, Al Kooper, John Sebastian...
1997 : Johnnie Be Live (Father of Rock and Roll Music) with Jimmy Vivino and Al Kooper
1999 : Father of Rock and Roll" (Father of Rock and Roll Music) Accompanying CD with the book Father of Rock and Roll: The Story of Johnnie B. Goode Johnson featuring all new recordings of Johnson and Berry songs.
2005 : Johnnie Be Eighty And Still Bad! (Cousin Moe Music) with Jeff Alexander, Rich McDonough, Larry Thurston, Gus Thornton.
External Links