Maryville University
From WikiLou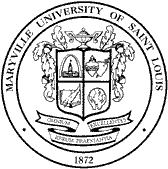 Maryville University (Maryville University of St. Louis) was founded in 1872 by the Religious of the Sacred Heart, a Catholic order established in France by women dedicated to excellence in education.
History
One of the oldest private institutions in the St. Louis area, Maryville was originally an academy for young women, before becoming a four-year college in 1923 and a university in 1991. Prior to 1991, Maryville was known as Maryville College of St. Louis. Even though it is a liberal arts college, it is NCAA Division III, and has a 13:1 student-teacher ratio. 1968 was a watershed year at Maryville as it was in that year that the decision was made to make the college co-ed. In 1972, Maryville's Centennial year, when ownership of the college was transferred from the Religious of the Sacred Heart to a lay board of trustees.
The institution's visionary grasp of the growth potential of West St. Louis County, sparked its purchase in the late 1950s of 290 acres of land adjacent to Highway 40. The dedication of the new campus on this site in 1961 marked the beginning of Maryville's mission as a community-oriented liberal arts institution. Prior to 1961, Maryville was located in South St. Louis County. In 1981, Maryville made history by launching Weekend College. For the first time, St. Louis-area working adults could complete entire degree programs solely on the weekends.
More construction was dedicated in 1986 with the addition of the library building, an academic link building with and auditorium style class room, and an additional dormitory. Construction was completed around 1988. A significant amount of construction was dedicated in 1997 with the construction of a new student union center completed in 2001, the opening of the new theatre auditorium in 2002, and apartment style dorms in 2003.
School of Health Professions
A majority of the students at Maryville major in the medical fields of nursing, physical therapy, and occupational therapy.
School of Business
Although it is not AACSB accredited, the John E. Simon school of Business offers a variety of graduate and undergraduate programs. Named after the late St. Louis philanthropist, the school of business offers programs in accounting, marketing, e-business, business administration and information systems.
School of Liberal Arts
Many students at Maryville who pursue a degree in liberal arts major in actuarial science, art and design, social sciences, or the humanities. Maryville is also one of the many schools in the St. Louis Area to offer a degree in computer science, along with Washington University, Webster University, UMSL, SLU, and Lindenwood University.
School of Education
Maryville offers some of the most esteemed programs of study in the field of education. Many who study in this field are not limited to teaching elementary or secondary education but higher learning levels as well.
Maryville Library
The library at Maryville has a vast amount of resources available inside the library, outside the library, and online.
While Maryville has a two-story library with an abundant amount of resources, like all libraries it doesn't have every book. When this happens, students and staff usually request books through interlibrary loan. Most of the time, the loan is from another college or university within Missouri that is a member of the state's MOBIUS cluster.
Other resources include a small collection of government documents, periodicals, phonographic records, videos, microfiche, and access to LexisNexis.
Athletics
Maryville competes in the St. Louis Intercollegiate Athletic Conference, which is a Division III conference in the NCAA. Its teams are known as the Saints.
External Links