McKendree College
From WikiLou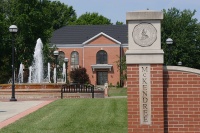 McKendree College is the oldest college in Illinois, founded in 1828. It is located in Lebanon, Illinois and has an enrollment of approximately 2,000 undergraduates. It is a private liberal arts college affiliated with the United Methodist Church.
Curriculum
McKendree College offers 6 bachelor degree programs in 37 major areas of study and several master degree programs. More than 50 % of the classes have fewer than 15 students. McKendree provides a low 15-to-1 student-to-faculty ratio.
McKendree College also offers masters degrees in three areas -- education, professional counseling, and business administration.
History of the College
Established by pioneer Methodists, McKendree is the oldest school in the nation with continuous ties to the United Methodist Church.
First called Lebanon Seminary, the school opened in two rented sheds for 72 students in 1828 under Edward Raymond Ames. In 1830, Bishop William McKendree, the first American-born bishop of the Methodist church, permitted the Board of Trustees to change the institution's name to McKendree College. Later Bishop McKendree deeded 480 acres (1.9 km²) of rich land in Shiloh Valley, Illinois, to help support the college.
Reverend Peter Akers, in 1833, was the first president of the newly named college. He was three times president of McKendree College and received its first degree, an honorary Doctorate of Divinity.
In 1835, the College received one of the first charters granted to independent church colleges by the Illinois legislature. The institution still operates under the provisions of a second, more liberal charter obtained in 1839.
Annual All-Campus Events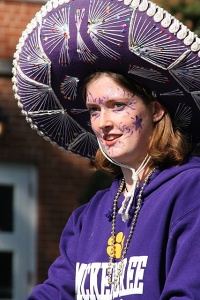 April: Spring Fling
September: Tailgate party - picnic, fest, and game kicks off the football season
October: Homecoming - parade, fest, and football game
December: Christmas tree lighting - eggnog, Christmas carols, and Christmas tree illumination
Facilities
McKendree College's main campus is located on 100 acres in Lebanon, Illinois, about 25 minutes from downtown St. Louis. Several of its 28 buildings have been cited by the National Register for Historical Buildings.
McKendree College also has campuses in Louisville and Radcliff, Kentucky, classes at Scott Air Force Base, and a nursing program at several locations in Southern Illinois.
Athletics
McKendree College is a member of the National Association of Intercollegiate Athletics. Its teams are called the Bearcats. In football, which returned to the campus in 1996, the Bearcats play in the Midwest League of the Mid-States Football Association, an NAIA affiliate. In other sports, the Bearcats are members of the American Midwest Conference. The Bearcats participate at the intercollegiate level in 11 men's sports and 9 women's sports:
Men's sports

Baseball
Basketball
Bowling
Cross Country
Football
Golf
Hockey
Soccer
Tennis
Track and Field
Wrestling

Women's sports

Basketball
Bowling
Cross Country
Golf
Soccer
Softball
Tennis
Track and Field
Volleyball
External Links
References
Who Was Who in America: Historical Volume, 1607-1896. Chicago: Marquis Who's Who, 1967.