Nelly
From WikiLou
Cornell Haynes Jr. (born November 2, 1974). is a rapper from St. Louis, who experienced popularity in the early 2000s. Best known by his stage name Nelly, he is one of the best-selling pop-rappers of all-time, with over 40 million albums sold worldwide. He has also achieved three number-ones in the U.K. (four including his vocal contribution to "Nasty Girl" by Notorious B.I.G.), four U.S. Billboard Hot 100 number one singles, and four Grammy Awards.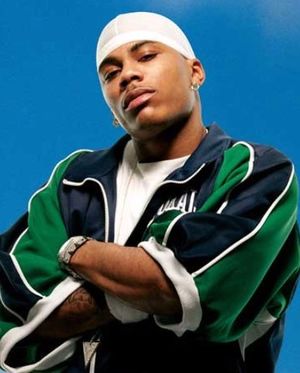 Personal Background
Born in Austin, Texas, but raised in St. Louis, Nelly's accent exhibits a great deal of influence from this Midwestern upbringing, as his midwest twang mixed with a southern drawl is a result of growing up in the hybrid southern-midwest city of St. Louis. Nelly also spent part of his first years in Spain while his father was in the U.S. Military. Raised in suburban University City, Nelly formed the St. Lunatics with his friends in the surrounding area. After much frustration and failed attempts, it was suggested that Nelly would have a better shot at success as a solo act, to gain recognition first as a soloist and then bring in the rest of his group, the St. Lunatics in the time to come. He was soon signed by Universal Music Group. His unique Midwest/Southern style still shines through and he continues to proudly acknowledge his St. Louis roots.
In 2001, Nelly's sister Jacqueline "Jackie" Donahue was diagnosed with leukemia. In 2003, Nelly and Jackie started the Jus Us 4 Jackie campaign, a search for a bone marrow donor. Although the search was unsuccessful for Jackie, (she died March 24, 2005 of complications from leukemia when she was 31) the foundation was able to find matches for others, including two children from Jackie's hometown of St. Louis. Nelly has continued charity work related to this illness in her memory.
Music Career
Nelly first came to mainstream audiences with the song, "Country Grammar" (2000) and released Free City with the St. Lunatics in 2001. Country Grammar established him as one of the most successful rappers of the early 2000s with the help of an image one part handsome boy-next-door and one part tough gangster. From the beginning of his hip hop career, the lyrics of "Country Grammar" explored this dichotomy, posing the question: "Who says pretty boys can't be wild niggaz?" and containing references to gun violence and drug use while also sending shout outs to billionaires Bill Gates and Donald Trump, as well as fictional serial killer Hannibal Lecter. The album Country Grammar, debuted at #1 on the Billboard Top 40. Nelly and Country Grammar were nominated for two 2001 Grammy Awards--Best Rap Album and Best Rap Solo Performance. On July 18, 2001, it was certified 7x platinum. "Ride Wit Me", off the Country Grammar album, was nominated for three 2001 MTV Video Music Awards--Best Male Video, Best Rap Video, and Viewer's Choice; the album won the Best Rap Video award. Nelly was also named "Best New Artist" at the 1st Annual B.E.T. Awards in 2001. Other recognitions in 2001 include winning the Favorite New Male Artist award at the 2001 Blockbuster Entertainment Awards and being named one of People's "Breakthrough Stars of 2001".
In 2002, his second album, Nellyville, debuted at #1 on the Billboard 200 with first-week sales of 714,000+ units. It stayed at #1 for 3 weeks. After only a month, it was certified triple platinum. Hot in Herre was #1 on the Billboard Hot 100 for 7 weeks, followed immediately by "Dilemma", featuring Kelly Rowland of Destiny's Child, which was #1 for 10 weeks. "Dilemma" was the first ever rap song to stay at #1 for 10 weeks on the Billboard Hot 100. In 2002 he also won the American Music Award for "Favorite Rap/Hip-Hop Artist", as well as winning 6 Billboard Music Awards (Artist of the Year, Male Artist of the Year, Male Hot 100 Artist of the Year, Male R&B/Hip-Hop Artist of the Year, Rap Artist of the Year, and Rap Track of the Year for "Hot in Herre") and receiving nominations in 8 other categories. "Weird" Al Parodied Nelly's Hot in Herre; Nelly liked it so much he donated clothes to AL and his band to wear on stage while performing the song.
In early 2003, Nelly released the controversial single, "Air Force Ones". MTV, MTV2, MuchMusic, and VH1 refused to air the video due to product placement for Nike's popular sneakers of the same name. BET, however, played it. (Nike and Nelly agreed on a 1-year deal in 2003 to release a limited-edition sneaker called the "Air Derrty" which was a retro remake of Charles Barkley's signature sneaker the Nike Air Max2 CB '94 which was released on June 13, 2003 at select NIKE town stores. Limited to 1,000 pairs.) He later made a deal with Reebok, stating, "I've always been into sneakers and throughout my career I've always wanted to have a signature pair of sneakers that truly reflect my personal style. It made the most sense for me to partner with Reebok because they fully understand and respect the culture of sports, music and entertainment."
In 2003, Nelly received two Grammys for Best Male Rap Solo Performance and shared a Grammy with Kelly Rowland for Best Rap/Sung Collaboration, and he also won the 2003 American Music Award for "Fan's Choice" and received 4 other nominations.
In the following year, 2004, Nelly won his third Grammy for Murphy Lee's number-one hit single "Shake Ya Tailfeather" from the Murphy's Law CD. Shake Ya Tailfeather featured Nelly & P. Diddy. On September 14, 2004, Nelly released two albums simultaneously, Sweat and Suit. Suit, an R&B-oriented album, debuted at #1 on the Billboard albums chart, and Sweat, a rap-oriented album, debuted at #2 on the same week. From the Suit album, the slow ballad "Over and Over", an unlikely duet with country music star Tim McGraw, became another crossover hit. Nelly performed the song with McGraw on the latter's CBS Television concert special in 2004. In 2005, he scored another #1 hit with "Grillz".
Nelly's entire song catalog - including hits he has co-written with Tim McGraw and 'N Sync - is published by B.M.G. Music Publishing.
Nelly feuded with rapper KRS-One. During the feud, Nelly used the angle that KRS-One was past his prime. KRS-One called Nelly out for being a bubble gum pop artist, and Nelly rebutted by naming KRS-One a hypocrite. This feud was even referenced by rapper Chino XL in his song "B-Boy." In it, Chino X.L. states "Nelly battling KRS-One, we gotta stop him! What's next? Beyoncé battling Rakim?"
In 2005 Nelly Recorded a song with Eurovision Song Contest star Alsou, The song called Wish i didn't Know was never officially released, but was leaked out and now can be found randomly online.
Acting Career
Nelly featured in the 2005 remake of The Longest Yard with Adam Sandler and Chris Rock. The film debuted at #3 at the American box office behind Star Wars Episode III and Madagascar and became MTV Films' most successful release grossing over 100+ Million U.S.D. in the states alone. Nelly's first film was called "Snipes" with Zoe Saldana. Due to a lack of adequate funds, the movie was never widely released in cinemas but has since made a V.H.S. and D.V.D. release and can be ordered through major retailers. The movie has also been featured on BET The movie was filmed very early in the St. Lunatic member's career. Nelly has been nominated for, and won many awards.
Personal Life
Since mid-2003, Nelly has been dating Ashanti but she has denied reports that they were engaged. Nelly currently has two children, a daughter Channel born February 27,1994, and a son Cornell III nicknamed Trey.
Net Worth
It was recently estimated that Nelly was in the top 100 of the wealthiest hip hop entertainers. He and Jermaine Dupri tied at 10th place both worth 60 Million U.S.D.
Business Endeavors
Nelly was part of a clothing line created with cousin Yomi Martin called Vokal[1]. Vokal was actually a prototype line started by another St. Louis Businessman. Nelly and his crew have often had its logo featured prominently on their clothing in music videos and public appearances. Vokal, in its earliest stages can be seen on various people in Nelly's video for "Country Grammar", including the small children dancing. What once started as a means of funds and support for the St. Lunatics, the line later grew into a million dollar business venture for Nelly years later. The line has since slowed down and can be found throughout the internet world or DaVibe's closet.
He also has a clothing line for women called Apple Bottoms which has gained national notoriety and success for Nelly with millions in sales and a successful year in 2006.
Nelly is also a co-sponsor of the non-carbonated sports energy drink, Pimp Juice [2]. Nelly is also part owner of the NBA expansion team Charlotte Bobcats with B.E.T. founder Robert L. Johnson and NBA legend Michael Jordan.
Two of Nelly's songs were featured in General Motors different commercials that premiered during Super Bowl XLI. The songs were E.I. and Hot In Herre. The commercials are now regularly played.
Controversy
Nelly was under controversy by some for his creation of the music video "E.I. (Tipdrill Remix)", or widely known as just "Tipdrill". The song is found on "Da Derrty Versions". The video depicts many women performing various sexual acts, and is labeled pornography by many groups. The video was played many times on BET: Uncut.
Trivia
Nelly has appeared on many talk shows like The Ellen DeGeneres Show, Late Night with Conan O'Brien, TRL, Jimmy Kimmel Live, The Tonight Show with Jay Leno, The View, Late Show with David Letterman, Last Call with Carson Daly, Saturday Night Live, and Good Morning America.
Discography
Albums
Album cover
Album information
Country Grammar

Released: June 27, 2000
Chart positions: #1 U.S., #14 UK
Last RIAA description: 9x Platinum
Singles: "Country Grammar (Hot Shit), "Ride Wit Me", "E.I." and "Batter Up".

Nellyville

Released: June 25, 2002
Chart positions: #1 U.S., #2 UK
Last RIAA description: 6X Platinum
Singles: "Hot In Herre", "Dilemma", "#1", "Work It" featuring Justin Timberlake, and "Air Force Ones".

Da Derrty Versions: The Reinvention

Released: November 23, 2003
Chart Positions: #12 U.S., #27 UK
Last RIAA description: Platinum
Singles: "Iz U", "Work It (Reinvention)"

Suit

Released: September 14, 2004
Chart positions: #1 U.S., #8 UK
Last RIAA description: 3x Platinum
Singles: "Over & Over", "My Place", "N Dey Say"

Sweat

Released: September 14, 2004
Chart positions: #2 U.S., #11 UK
Last RIAA description: Platinum
Singles: "Flap Your Wings" "Na-NaNa-Na", "Tilt Ya Head Back"

Sweat / Suit

Released: June 2005
Chart positions: (Not Released In U.S.), #40 UK
Last RIAA description: Gold
Singles: "Flap Your Wings" "Over & Over", "Na-NaNa-Na", "My Place", "Tilt Ya Head Back", "N Dey Say", "Dilemma"

Sweatsuit

Released: November 25, 2005
Chart positions: #1 U.S.
Albums Sold: 500 000+
Last RIAA description: Gold
Singles: "Nasty Girl", "Grillz", "Fly Away"

The Prelude

Released: June 2007
Chart positions:
Last RIAA description:
Singles:
Sources: http://www.rockonthenet.com/artists-n/nelly.htm
Singles
Year
Song
U.S. Hot 100
U.S. R&B
U.S. Rap
U.K. singles
Album
2000
"Country Grammar (Hot Shit)"
#7
#5
#1
#7
Country Grammar
2000
"E.I."
#15
#10
-
#11
Country Grammar
2001
"Ride wit Me" (featuring City Spud)
#3
#1
-
#3
Country Grammar
2001
"Batter Up" (featuring Murphy Lee and Ali)
-
#76
-
#28
Country Grammar
2001
"#1"
#22
#20
-
-
Nellyville / Training Day Soundtrack
2002
"Hot in Herre"
#1
#1
#1
#4
Nellyville
2002
"Dilemma" (featuring Kelly Rowland)
#1
#1
#1
#1
Nellyville
2002
"Air Force Ones" (featuring Kyjuan, Murphy Lee and Ali)
#3
#4
#1
-
Nellyville
2003
"Work It" (featuring Justin Timberlake)
#68
-
-
#7
Nellyville
2003
"Pimp Juice"
#58
-
-
-
Nellyville
2003
"Shake Ya Tailfeather" (featuring P. Diddy and Murphy Lee)
#1
#3
#1
#10
Bad Boys II Soundtrack / Murphy's Law
2003
"Iz U"
-
#51
#23
#36
Da Derrty Versions: The Reinvention
2003
"Work It (Reinvention)" (featuring Justin Timberlake)
#58
-
-
-
Da Derrty Versions: The Reinvention
2004
"Flap Your Wings"
#52
#18
#14
#1
Sweat
2004
"My Place" (featuring Jaheim)
#4
#4
#2
#1
Suit
2004
"Tilt Ya Head Back" (featuring Christina Aguilera)
#58
-
-
#5
Sweat
2004
"Over and Over" (featuring Tim McGraw)
#3
#51
#7
#1
Suit
2005
"Na-NaNa-Na"
-
-
-
-
Sweat
2005
"N Dey Say"
#64
-
-
#6
Suit
2005
"Errtime" (featuring Jung Tru and King Jacob)
#24
-
-
-
The Longest Yard Soundtrack
2005
"Fly Away"
-
-
-
-
The Longest Yard Soundtrack / Sweatsuit
2005
"Grillz" (featuring Paul Wall, Ali, and Big Gipp)
#1
#2
#1
#24
Sweatsuit
Notes:

Currently active on worldwide music charts
Featured Singles
Year
Song
U.S. Hot 100
U.S. R&B
U.S. Rap
U.K. singles
Album
2001
"Where The Party At?" (Jagged Edge featuring Nelly)
#3
#1
-
#25
Jagged Little Thrill
2002
"Girlfriend" ('N Sync featuring Nelly)
#5
-
-
#2
Celebrity
2005
"Nasty Girl" (Notorious B.I.G. featuring P. Diddy, Nelly, Jagged Edge, & Avery Storm)
45
20
9
1
Duets: The Final Chapter/Sweatsuit
2006
"Call on Me" (Janet Jackson featuring Nelly)
#25
#1
-
#18
20 Y.O.
2006
"Hard N Da Paint" (Ali & Gipp featuring Nelly) 1
-
-
-
-
Kinfolk
Notes:

Currently active on worldwide music charts
Grammy Award History
Career Stats
Career Wins: 4
Career Nominations: 11
| Year | Category | Genre | Title | Result |
| --- | --- | --- | --- | --- |
| 2001 | Best Rap Album | Rap | "Country Grammar" | Won |
| 2001 | Best Rap Solo Performance | Rap | "Country Grammar" | Nominated |
| 2002 | Best Rap/Song Collaboration | Rap | Where's The Party At" | Nominated |
| 2002 | Best Rap Solo Performance | Rap | Ride With Me" | Nominated |
| 2003 | Best Rap Album | Rap | Nellyville | Nominated |
| 2003 | Best Rap/Song Collaboration | Rap | "Dilemma" | Won |
| 2003 | Best Male Rap Solo Performance | Rap | "Hot In Herre" | Won |
| 2003 | Record of the Year | General | Dilemma | Nominated |
| 2003 | Album of the Year | General | Nellyville | Nominated |
| 2004 | Best Rap Performance By a Duo or Group | Rap | "Shake Ya Tailfeather" | Won |
| 2005 | Best Rap Album | Rap | Suit | Nominated |
External Links