Pete Parisi
From WikiLou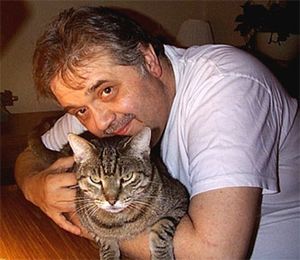 Peter E. Parisi
may have been born in New Jersey 60 years ago, but to his faithful followers, he is a St. Louisan, and his
World Wide Magazine
program defines the St. Louis experience.
Parisi came to St. Louis in 1971 as a Program Director at KADI-FM. Eventually, he lost his radio job and became a taxi driver, which helped foster his creative spirit that eventually went into his World Wide Magazine pilot of sorts, "Everyday I Use Up a Year's Worth of Luck" in 1985.
The St. Louis area got to know PEP, as he was affectionately known, through World Wide Magazine, his Public Access TV program, which hit the air in 1986 on Double Helix, the local public access station. He exposed the underbelly of St. Louis through his odd cast of characters including The Mad Russian, Big Mike, Hung Wei Lo, The Hoosiermooners, The Feeney Brothers, Vince and Marty, Watt Davis, Miss Cathy, and countless others.
The interesting thing is that during his 15 years on the air, his editing skills, use of music, and sense of humor kept folks watching. It remains a fine time capsule of that period and an educational tool of sorts to teach people about the area.
His national impact may be small, but what he did was ahead of the curve. You see his humor and technique in the work of Tom Green, Jackass, Michael Moore and even underground film director George Kuchar. The Mad Russian even made his way onto the Howard Stern show several times, which may be attributed to honing his craft with Parisi.
External Links