River City Rage
From WikiLou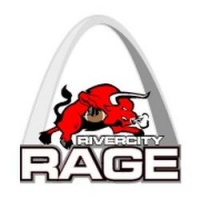 The River City Rage are a professional indoor football team in the UIF. They played home games at the Family Arena in St. Charles, part of the metropolitan area of St. Louis, in past seasons, played in the Scottrade Center in the 2006 season, and are returning to the Family Arena for the 2007 UIF season. The River City Rage's current head coach is Mike Wyatt.
History
The River City Rage was originally named River City Renegades in 2002. The team finished its first season with a 1-13 record. For 2003-2004, the team was renamed the Show-Me Believers. In the first season under the new name, the team finished with a 4-10 record that showed improvement, despite being a losing record. In 2004, the team's skill increased vastly, and completed the season with a winning record for the first time at 9-5. In 2005, the team was renamed and is currently the River City Rage. The Rage won the 2005 East Atlantic Conference Division with a record of 10-4. With this record, the team was locked in a three-way tie for the best regular-season record; however, the team lost its Conference Quarter Finals game 67 to 64 to the Cincinnati Marshals.
The next season, the team finished in a four-way tie for the regular season record at 13-1, and advanced to the Atlantic Conference championship game, losing to the Fayetteville Guard.
After the 2006 season, the Rage announced they were joining United Indoor Football for 2007. [1]
External Link