River City Rascals
From WikiLou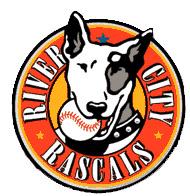 The River City Rascals are a minor league baseball team playing in O'Fallon as a member of the independent Frontier League.
History
The team was previously located in Zanesville, Ohio where they were known as the Greys. On Tuesday, October 27th, 1998, O'Fallon Mayor Paul Renaud announced the new name of the team to be the River City Rascals. Initial ownership of the Rascals consisted of a local group headed by Harold Burkemper.
The Rascals began play in 1999 in the Western Division of the Frontier League under manager Jack Clark, pitching coach Greg Mathews, and first-base coach Dick Schofield Jr., all previous Major League Baseball players.
The first five players to be signed to the club consisted of pitcher Jeff Pohl, outfielder Mike Robertson, first baseman Jonathan Bushman, infielder Jason Rackers, and outfielder Kevin Pitts. The first game played was on Wednesday, June 2, 1999 on the road against the Cook County Cheetahs of Crestwood, Illinois. Pitcher Joey Pipes pitched a complete game in losing by a score of 1-0 .
The first home game was played on Tuesday, June 8, 1999 at T.R. Hughes Ballpark at the Ozzie Smith Sports Complex in front of an overflow crowd of 4,173 (3,500 seat capacity). The Rascals beat the Dubois County Dragons by a score of 6-5 by rallying from a 5-1 deficit with William Black scoring on Tim Still's sacrifice fly in the bottom of the ninth inning. This was the first minor league baseball game in Missouri since 1955.
On July 17, 2006, the franchise was purchased by the group PS and J Professional Baseball headed by Steve Malliet of Joliet Illinois. Malliet had previously worked with the Joliet JackHammers since 2001, and assumed control of day to day operations of the Rascals on September 22, 2006.
Trivia
All home and away games are broadcast on St. Louis radio station 100.7 KFNS-FM beginning in the 2006 season with announcer Dan McGinn.
The Rascals "arch" rivals are the Gateway Grizzlies who play in nearby Sauget, Illinois.
As the Zanesville Greys, the team was the first champion of the fledgling Frontier League in 1993.
Pitcher Josh Kinney, who played for the Rascals in 2001, (21 innings, 18 strikeouts, 1.71 ERA) became the first Rascal player to make it to the Major Leagues. His contract was purchased from the Memphis Redbirds on July 2, 2006 by the St. Louis Cardinals where he appeared out of the bullpen during the 2006 regular season. His first major league pitch (July 3, 2006) was hit for a homerun by Atlanta Braves left fielder Ryan Langerhans; Kinney finished the 2006 season winning a championship ring with the Cardinals as 2006 World Series Champions.
External Links
Sources