Scottrade Center
From WikiLou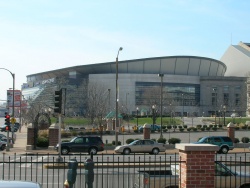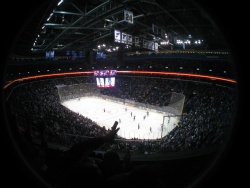 Scottrade Center (formerly Kiel Center and Savvis Center) is an arena located in Downtown St. Louis. The center hosts many events, including ice hockey, concerts, ice shows, family shows, and other sporting events. It hosts approximately 175 events per year, drawing nearly 2 million guests annually. It can seat 20,000.
The building is operated by Sports Capital Partners, owner of the St. Louis Blues, under the leadership of its chairman, Dave Checketts. Recent major capital improvements made to the arena under its new ownership include a new center scoreboard and LED ribbon board, new luxury club seats and a point-of-sale system permitting credit and debit cards at concession stands for faster service.
History
Kiel Center opened in 1994 to replace Kiel Auditorium, which was torn down in December 1992. The Blues had played in the St. Louis Arena prior to moving into Kiel Center in 1994. The building is currently known as Scottrade Center, after naming rights were sold in September 2006 to Scottrade. The Kiel name still bears on the adjoining parking structure.
Blues management decried its former naming-rights deal with tech company SAVVIS, as many of the monies paid out were in Savvis shares. However, when the tech bubble burst, the team was left with almost nothing, and ended up losing money on the deal. Scottrade fixed that problem by paying its deal all in cash.
In September 2006, Scottrade founder Rodger O. Riney and Chief Marketing Officer Chris X. Moloney announced a landmark partnership with the St. Louis Blues hockey club and arena. The new name of the arena, Scottrade Center, was revealed in a joint press conference. Terms of the deal were not disclosed, but were described as "long-term and significant." Both Scottrade and the Blues said the agreement was "equitable" to both parties.
Tenants
It is home to the St. Louis Blues and the Saint Louis University Billikens basketball team. It was formerly home to the St. Louis Ambush and St. Louis Steamers indoor soccer teams, the St. Louis Stampede arena football team, and the River City Rage indoor football team.
Notable Events
Every March since 1995, the Scottrade Center has hosted the men's basketball conference tournament for the Missouri Valley Conference.
1997 Conference USA men's basketball tournament
Hosts the Mid-States Club Hockey Association Challenge Cup and Wickenheiser Cup finals for high school hockey teams in St. Louis
WWE Badd Blood: In Your House
1998 NCAA Men's Division I Basketball Tournament Midwest Regional
Pope John Paul II celebrated a youth day service here on his 1999 visit to St. Louis
NCAA Division I Wrestling Championships in 2000, 2004, 2005, 2008, and 2009
Women's Final Four in 2001
WWE No Mercy 2001
Hosted the Cory Spinks vs. Zab Judah Undisputed Welterweight title fight in 2005.
Host the 2006 State Farm U.S. Figure Skating Championships in January 2006, which was used as the primary means to select the United States Figure Skating team for the 2006 Winter Olympics.
The Scottrade Center hosted the 2007 Frozen Four college ice hockey tournament on April 5 and April 7, 2007.
In 2009, the Scottrade Center will host the NCAA Women's FINAL FOUR basketball tournament
Awards and Recognition
The Center is known for the quality of its ice (Scottrade Center was voted 2nd best rink in a poll of NHLers, behind only Montreal), the Scottrade Center is respected as one of the louder NHL arenas.
Pollstar, a highly respected industry trade publication, consistently ranks Scottrade Center among the top 10 arenas worldwide in tickets sold to non-team events.
For the first quarter 2006, Scottrade Center ranked second among arenas in the United States and fourth worldwide in tickets sold.
Contact Information
1401 Clark Avenue
St. Louis, MO 63103
Administrative Offices: 314-622-5400
Event Information Hotline: 314-622-5435
Map
Google is a little bit behind the times, and still calls this the Savvis Center. <googlemap lat="38.626728" lon="-90.202796" zoom="16" width="700" controls="large"> 38.627267, -90.201937, Scottrade Center, St Louis, MO 63103, USA </googlemap>
External Links