St. Louis
From WikiLou
St. Louis is the major city in eastern Missouri. It is the only independent city in Missouri, and one of only 42 in the nation. St. Louis is adjacent to, but not part of St. Louis County. However, most people in the Greater St. Louis area, despite not being from the City itself, claim to be from St. Louis.
Government
For the full article on the St. Louis City Government, click here.

The City of St. Louis is governed by a 28 member Board of Aldermen, and a Mayor. The St. Louis Police Department and St. Louis Fire Department is run by St. Louis Department of Public Safety.
Demographics
For the full article on the people of St. Louis, click here.

City Population [1]
Census
year
Population

---

1830
4,977
1840
16,469
1850
77,860
1860
160,773
1870
310,864
1880
350,518
1890
451,770
1900
575,238
1910
687,029
1920
772,897
1930
821,960
1940
816,048
1950
856,796
1960
750,026
1970
622,236
1980
453,085
1990
396,685
2000
348,189
2010
319,294
2013
318,416
Although recent census reports show population growth, St. Louis has had a long history of population decline. According to the 2000 census the City is losing people at a rate faster than any other major American city except Hartford, Connecticut. The city lost more than one—half of its population in the second half of the 20th century. In 1950 it had a population of 857,000, in 2000 the population was 348,189. In 2004, the population of St. Louis was estimated at 343,279 [2]. Experts credit social changes in the twentieth century that radically influenced the make-up of those currently living in St. Louis. Like other large American cities, St. Louis experienced a large population shift to the suburbs in the twentieth century; first because of increased demand for new housing following the Second World War, and later in response to demographic changes, namely white flight, whether real or perceived, in existing neighborhoods.
As of the census of 2000, there were 348,189 people, 147,076 households, and 76,920 families residing in the city. The population density was 5,622.9/mi². There were 176,354 housing units at an average density of 2,847.9/mi². The racial makeup of the city of St. Louis (as separate and distinct from St. Louis County and the rest of the MSA) was 51.20% African American, 43.85% White, 1.98% Asian, 0.27% Native American, 0.03% Pacific Islander, 0.80% from other ethnic groups, and 1.88% of two or more ethnicities. Hispanic or Latino of any ethnic group were 2.02% of the population. Historically, North St. Louis City has been primarily African American while South St. Louis City has been primarily White. Since the mid-1990s, an estimated 30,000 - 40,000 Bosnian immigrants have settled in the St. Louis metropolitan area, primarily concentrated in the Bevo neighborhood of south St. Louis and adjacent parts of St. Louis County.
There are 147,076 households, out of which 25.4% have children under the age of 18 living with them, 26.2% were married couples living together, 21.3% had a female householder with no husband present, and 47.7% were non-families. 40.3% of all households were made up of individuals and 12.9% had someone living alone who was 65 years of age or older. The average household size was 2.30 and the average family size was 3.19.
In the city the population was spread out with 25.7% under the age of 18, 10.6% from 18 to 24, 30.9% from 25 to 44, 19.1% from 45 to 64, and 13.7% who were 65 years of age or older. The median age was 34 years. For every 100 females there were 88.6 males. For every 100 females age 18 and over, there were 84.2 males.
The median income for a household in the city was $29,156, and the median income for a family was $32,585. Males had a median income of $31,106 versus $26,987 for females. The per capita income for the city was $18,108.
History
For the full article on the St. Louis History, click here.

St. Louis was first explored in 1673, but a permanent settlement was not founded here until 1765. St. Louis has endured a Revolutionary War Battle, earthquakes, multiple cholera epidemics, the Civil War, a nasty tornado, and horrible crime. It has also been the home of some amazing events, including the Louisiana Purchase Exposition, the 1904 Summer Olympics, several major political conventions, and much more.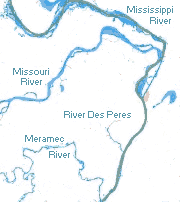 Geography
For the full article on the St. Louis' Geography, click here.

Geographically, St. Louis has always been dominated by it's rivers. The Mississippi, Missouri, and Meramec rivers, along with the River Des Peres, have formed the shape of St. Louis. The city's caves have also played an important role in the city's development as a brewery town.
Recent Recognition
St. Louis has recently been the subject of much national publicity for many reasons. These include:
Sister Cities
St. Louis has eleven sister cities, as designated by Sister Cities International:
See Also
Video Tours
Bicycle Style
<youtube v=QMVZx39Fn8s />
Car Style
<youtube v=JJN76Dt2lMo />
Map
This map is done via Google Maps, and it zoomable, dragable, and all that other fun map stuff. <googlemap lat="38.627522" lon="-90.19841" zoom="11" width="700" controls="large">38.627522, -90.19841, Saint Louis, MO, USA</googlemap>
External Links