St. Louis Area Police Abuse
From WikiLou
The following examples of local police incidents are organized by the city that employ the officer(s), though the incidents may have happened in other jurisdictions.
Arnold
2007 Off-Duty Cop pulls gun at White Castle in self defense
On September 13, 2007 an off duty officer, allegedly pulled out his pistol on another customer on a White Castle parking lot in Florissant. After the man threatened to kill the off duty officer by shooting him with a weapon he had in his car, the officer drew his weapon in defense. Witnesses said the man told the officer he was going to kill him and that he had a gun in his car. The Florissant Police were called, and the officer was taken in for questioning. No charges were filed on either party. Later, the officer notified the Arnold PD of the incident and resigned due to the incident. He had been with the Arnold police force for about 8 months, .[1]
Bella Villa
Police Chief Edward Locke Jr.
Bella Villa's Police Chief Edward Locke Jr., is the only officer to have more than one entry for himself on this page. Amazing, especially when you read the following three entries. His father, Edward Locke Sr., is the police chief of Byrnes Mill, in Jefferson County, and has also been named in four cases of his own that allege civil rights violations and assault.[2]
Effective December 17, 2010, Edward Locke Jr. is no longers Bella Villa's police chief.[3]
2005 Illegal strip search
Jami Neco Schmidt, of Overland, accused Bella Villa's Police Chief Edward Locke Jr. of illegally strip-searching her by photographing her pelvic tattoo after a 2005 arrest. When they got back to the Bella Villa police station, Locke asked Schmidt whether she had any tattoos, according to her lawsuit. When she told him she had a tattoo in her pubic area, Locke gave her a Polaroid camera and directed her to go to the bathroom to take a picture of it, Schmidt said in her complaint. Not satisfied with Schmidt's photograph, Locke told her to lower her pants so he could photograph the tattoo, she alleged. He then took a third photo after directing Schmidt to lower her pants a little more, according to the complaint.[4]
U.S. Senior District Judge Stephen N. Limbaugh threw the case out.[5]
2006 Wrongful arrest, assault, and sexual assault
The city and Police Chief Edward Locke, Jr., were both sued Nov. 9 in Federal court by William Cavataio and Mary Lou Cavataio. The suit alleges violations of the couple's Fourth and 14th Amendment civil rights, indecent assault and assault and battery.
According to the suit, William and Mary Lou Cavataio own residences in both Bella Villa and in Illinois. The couple's 1986 GMC Silverado is licensed in Illinois because they reside much of their time in Illinois and even though in 2001 they began spending more time back in Bella Villa, they left the Siverado licensed in Illinois.
On Aug. 19, William Cavataio was loading items into his vehicle from his Bella Villa home when, the suit alleges, Locke pulled up and inquired about the license plates. When Cavataio explained the situation, Locke placed him under arrest for "failure to properly register with Missouri DOR" (Department of Revenue), the suit alleges.
According to the suit, Locke placed Cavataio in handcuffs and while walking him to the police car pushed down on a chain on the cuffs, causing pain and injury to Cavataio. Then when he was about to place him in the back seat of the police car, Locke "kneed" Cavataio behind his right knee, causing him to collapse on the rear seat and also causing a back injury, the suit alleges.
According to the suit, Mary Lou Cavataio came outside as William Cavataio screamed that he was injured. Locke offered to call an ambulance but the couple refused, due to the cost. Mary Lou Cavataio said she would take her husband to the hospital in their personal vehicle.
At that point, the suit alleges, Locke removed the handcuffs and William Cavataio got into the passenger seat of his Silverado and his wife got into the driver's seat. Locke then approached the car and leaned on the driver's side door and rear view mirror, preventing Mary Lou Cavataio from driving away.
The suit alleges that Locke then reached into the car and "groped Plaintiff Mary Lou Cavataio's left breast" and that Mary Lou Cavataio "smacked his hand away."[6]
2006 Sexual abuse
A woman who filed a federal suit October 17th, 2006, became the third motorist to claim sexual abuse by Bella Villa Police Chief Edward Locke Jr. during traffic stops.
Diane Cook said Locke touched her buttocks and breast under her clothes when he arrested her on suspicion of drunken driving in August 2005. Her husband claims Locke shocked him with a Taser and slammed his head on a car when he tried to intervene.
It was the second similar suit brought in federal court at St. Louis this year against Locke and Bella Villa, a municipality along Bayless Avenue off Interstate 55, just south of St. Louis. The suits allege civil rights violations.[7]
On April 30, 2008, it was reported that a jury rejected the claims of Diane Cook, and cleared Chief Locke of any wrongdoing. "I take my job very seriously," Locke said. "In my nearly six years of police service, I have an unblemished record. If I had done something like this, it would have come out before now."[8]
Bel-Ridge
2008 Police Chief removes criminal record as favor
As of 2/15/08, an investigation into Bel-Ridge's Police Chief Gordon Brock has begun for his alleged altering of the Regional Justice Information Service (REJIS) database. REJIS is a database of arrest records used for inter-departmental information sharing. Brock had inappropriately deleted the arrest record of Pine Lawn Police Chief Steven Haynes' grandson from REJIS as a favor of sorts. The arrest recently came up on a background check when the grandson, Prince Jackson, applied for a job as a clerk at a local casino. Haynes said he called Bel-Ridge police about the status of his grandson's case and Brock called back and said, "Don't worry about it." Haynes emphasized: "I never asked him to do me any kind of favor." "If they decide that I need to resign because this makes the city look bad, I don't have a problem with that," Brock said. "I'm pretty depressed over this." As of 2/21/08, there has been no disciplinary action taken against Brock, and he has yet to resign.[9]
Berkeley
2005 improper arrest of Photojournalist
On New Year's Day 2005, St. Louis Post-Dispatch photojournalist Gabriel Tait parked about a quarter of a mile away from a traffic accident on Interstate 70 and got out of his car to walk to the scene to take pictures near Berkeley. Minutes later, instead of taking photographs, a Berkeley police officer was slamming Tait's face against the hood of an emergency vehicle while arresting him.
Tait spent four hours in jail before being released on a $500 cash bond. The incident started when Tait responded to a radio report of an accident, and as he walked up to the scene an approaching police officer yelled, "You're not allowed to take pictures here." Tait responded, "I'm from the Post-Dispatch, sir, and this is an accident." It was then that other officers joined in ordering him to stop taking photographs and to leave.
When Tait again tried to identify himself, he was handcuffed — but he still managed to push a button on his cell phone that placed a call to Sid Hastings, the assistant director of photography at the newspaper. Hastings could hear Tait yelling, "Sid, Sid, they're harassing me!" and "Officer, does this mean you're taking me into custody?" The police turned off the cell phone at that point, and Tait was arrested and taken to the Berkeley police station and his photography equipment was confiscated. Berkeley Police Captain Frank McCall said Tait was arrested because he failed to follow the orders given by officers at the scene.[10]
Brooklyn, IL
1989 beating of Charles Brown
Brooklyn, IL officer Robert D. Boone handcuffed Charles Brown to a pole, and repeatedly stuck him with a nightstick in order to obtain information about a crime. In June of 1994, a federal grand jury found ex-officer Boone guilty of multiple counts of excessive use of force in two instances while serving as a Brooklyn police officer. One of those incidents was the beating of Charles Brown. Three other counts, which involved the use of unreasonable force on a separate occasion, were dismissed in exchange for Boone's guilty plea. Boone was sentenced to 51 months in prison and ordered to pay a $1,000 fine for the felony violation of federal criminal civil rights law.[11] Boone would have been released in 2000, but records of his release are not readily available online.
Carbondale, IL
2009 Bank Robbery by Cop
The First Southern Bank on West Murphysboro Road was robbed of about $22,000 cash the morning of Oct. 9 by two men concealing their faces under motorcycle helmets. Officer James D. Gaddis, 26, of Murphysboro, Ill., was arrested on 1/15/09 as one of the two men in the crime. He is charged with armed robbery, a felony punishable upon conviction by a minimum of six years and a maximum of 30 years. Since there was a firearm used in the crime, Illinois state law mandates an additional 15 years. It was reported that Gaddis "used some of his tools as a police officer to perpetrate the robbery."[12]
East St. Louis
2007 Cop Drunk at Wheel of Cop Car
Early in the morning on 9/22/07, Belleville police found East St. Louis detective Ricky Perry drunk and passed out at the wheel of his unmarked police cruiser. After the Belleville officers woke Perry up, he attempted to drive away from the scene but was prevented from doing so. Perry is still a detective on the East St. Louis PD, but is no longer allowed to bring his police cruiser home with him. [13]
Eureka
1999 Cops sodomize 16 year old girl
In Eureka a jury convicted a Eureka officer of eight counts of statutory sodomy with a 16-year old girl after detailed testimony from the Explorer scout. The girl said almost all of the sexual encounters occurred while she rode along with the officer. After the scandal broke, the Eureka Police Department ended the ride-along portion of its police Explorer program. The girl testified that she had previously had sexual encounters with two other Eureka officers. She said that the convicted officer was assigned to investigate rumors of the earlier encounters. The two other officers plead guilty to sexual misconduct charges involving the girl. (Source: St. Louis Post-Dispatch (June 4, 1999): Metro; Pg. C1.)
Ferguson
1998 Sex with teenage girl
A Ferguson, Missouri police officer was sentenced to nine months in jail and five years probation after admitting he had sexual relations several times with an underage girl. (Source: St. Louis Post-Dispatch (November 7, 1998): Five Star Lift Edition; News; Pg. 8.)
Florissant
1998 Sex with teens
In Florissant, a grand jury investigation found substantial evidence that three Florissant police officers had sex with two teenage police Explorer scouts. Some of the encounters occurred on duty during ride-alongs. All three officers resigned after the investigation began. (Source: St. Louis Post-Dispatch (November 7, 1998): Five Star Lift Edition; News; Pg. 8.)
Hazelwood
2003 Police arrest Fire Captain in middle of emergency call
Fire Capt. David Wilson of the Robertson Fire Protection District was coordinating emergency fire department efforts at the scene of a traffic accident on Interstate 270 at McDonnell Boulevard on May 12, 2003. Hazelwood Officer Todd Greeves ordered Wilson to move a firetruck so that he could open another lane to the heavily backed-up traffic. Wilson refused to move the truck, as it was acting as a safety buffer for firefighters trying to remove motorist Joe Mack who was trapped in his vehicle. When Wilson refused, Greeves arrested him in immediately and placed him in the back of a patrol car, all in the middle of a rescue operation.[14]
On 2/14/08 Federal court jurors awarded $17,500 to Capt. Wilson in a civil suit after the incident, and U.S. Magistrate Judge Mary Ann Medler ruled that Greeves had no probable cause to arrest Wilson.[15]
An internal affairs investigation determined that Greeves used excessive force in a 2002 arrest, court documents show, and was the subject of several other complaints. As of 2/13/08 Officer Todd Greeves is still employed with the Hazlewood Police Department.[16]
Jennings
As of October 1, 2010, the Jennings City Council has given control of it's own police over to the St. Louis County Police Department. The measure is temporary, but may become permanent. The change was made in light of recent abuses becoming public.[17]
2010 Excessive Force and Coverup
<youtube v="iCOgqWq-Mho" />
During the arrest, the family member of the person being arrested approached police to ask what was happening. She was told to move back by one officer. Four seconds after she is told, Corporal Paul Bachman leaps toward the woman and hits her in the neck with his forearm, knocking her to the ground. The woman attempted to make a complaint to the Jennings PD, but was told a video did not exist. 14 months later the video showed up in DVD form at the office of a City Council member. Officer Bachman was fired by the City Council.<sup[18]</sup>
2011 Officer Resigns After Shooting is Ruled Unjustified
Jennings Officer David Hauck resigned on 1/7/11 after St. Louis County Police Capt. Troy Doyle found that Hauck's decision to fire multiple rounds from his department-issued .40-caliber semiautomatic handgun at a moving car containing a suspect and an 11 month-old girl was an unjustified shooting that was against department policy.[19]
A video of the chase and shooting, from the perspective of another vehicle involved in the chase, can be found here. You can see Office Hauck outside of his vehicle, firing at the suspect's car as it passes him between 1:30 and 1:37 in the video.
Maplewood
2006 Police beating on live TV
On January 30, 2006, a KSDK helicopter showed live video of police pursuing an unregistered van that someone had reported suspicious. After a brief chase, the beating of the suspect, Edmon Burns, by three Maplewood and one St. Louis police officer was shown live to all who watched on television.
TV pictures show Maplewood police pushing Burns against a wall and then to the ground. All three officers can be seen punching and kicking. Then a fourth officer comes up and kicks him. After a few seconds, police put him on his feet and walk him to waiting patrol cars. Police said no weapon was found on Burns or in his vehicle.[20]
St. George
St. George has just under 1,300 people, but its police wrote about 3,000 tickets there in 2005.[21] The small city is known as a "speed trap" to local drivers. St. George police are known to constantly patrol Reavis Barracks Road, and has been criticized for doing so to an excessive degree, with little benefit to the community.
1981 Police Chief Arrested for Bombing
Chief Milton Russell Schepp was accused of working with the "Syrian underworld" to plant a bomb in the car of mobster Paul J. Leisure. Leisure survived the blast, and Schepp went to prison.[22]
2000 Investigation of Police Chief
In 2000, Police Chief Scott Uhrig was investigated for propositioning 17-year-old Chrystal Cole for sex during a traffic stop in 2000, when he was an officer in Arnold. An administrative commission upheld the accusation. Cole brought a civil rights lawsuit against Uhrig and the City of Arnold. The case went to mediation; the disposition was not made public.[23]
2005 Felony Theft by Officer
On March 10, 2008, former St. George police officer Charles P. Kaufman III was charged with felony theft of department funds. The charge stems from Kaufman's actions in 2005, when he received a check for $1000 from a local Imo's Pizza as a donation to the St. George Police Department. Instead of giving the check to the Department, he cashed it himself, and used the money to put a down payment on a house. Kaufman was hired by the St. George Board of Aldermen in 2003, and resigned in October 2005 after discrepancies with Department donations became apparent. Kaufman had been a police officer in Bella Villa and Byrnes Mill prior to working in St. George.
The charges took over 2 and a half years to come about, because the investigation was being handled by Sgt. James Kuehnlein, who was dismissed from the St. George police in 2007 for the harassment of Brett Darrow (see below). After Kuehnlein was dismissed, it was found that he had never started an investigation into the donation discrepancies.
Charles P. Kaufman III would face a minimum sentence of probation, and a maximum sentence of 7 years in prison if found guilty.[24]
2007 Harassment of Brett Darrow
<youtube v="3f9mj37SeMY" />
In September 2007, Brett Darrow, a St. Louis resident, posted an online video (at right, click to play) of an encounter with St. George police Sgt. James Kuehnlein. In the video, Kuehnlein approaches Darrow while he waits in a parked car in a commuter parking lot. When Darrow asks Kuehnlein whether he did anything wrong, the officer orders Darrow out of the car and threatens to fabricate charges and arrest him.
Darrow told the news media that he pulled into the commuter lot to meet a friend. When the officer asked him for identification, Darrow said he didn't immediately present it because he believes the officer stopped him without probable cause. After the video gained popularity on the Internet (with nearly 3600 "digs" on Digg.com[25]), Kuehnlein was suspended without pay. In response, St. George Police Chief Scott Uhrig said, "I was very displeased when I saw the actions on the video."[26]
Kuehnlein himself pleaded guilty of assault and stealing in two different cases, in 1988 and 1990. He successfully petitioned a judge in St. Louis County in 1998 to expunge his criminal record, which was making it hard for him to get work as a cop. The judge ordered those records sealed, as well as records of an acquittal for drunken driving and an assault arrest that did not result in charges.[27]
Darrow said he was in fear of his life during the incident. On June 29, 2007, in a discussion on the St. Louis Cop Talk forums (a site used mainly by St. Louis area police officers) about a prior incident in which Darrow disagreed with an officer, a forum member by the name of "STL_FINEST" posted "I hope this little POS punk bastard tries his little video stunt with me when I pull him over alone- and I WILL pull him over - because I will see "his gun" and place a hunk of hot lead right where it belongs." That post has since been deleted.[28] Another anonymous post on the same site said "I'm going to his house to check for parking violations." On another web forum, a self-identified St. Louis officer said "Take the kid to jail... today... tommorrow... the next day... everytime you see him out and he commits a traffic violation... tow his car and take him to jail... period. No arguing, no yelling.....nothing but the sound of cash leaving his wallet from impound fees and fines."[29]
It was announced on 9/20/07 that during a closed-door meeting of the St. George Board of Aldermen, the board voted 5-0 to fire Sgt. Kuehnlein. St. George Police Chief Uhrig has recommended that the board fire Kuehnlein both for his unprofessionalism, and his failure to videotape the incident, which is a violation of department policy. "It's what I wanted the whole time," Darrow said. "The conduct was not forgivable."[30]
On March 18th, 2008, it was made public that the American Civil Liberties Union of Eastern Missouri was filing suit in federal circuit court against the city of St. George, former police Sgt. James Kuehnlein, and an unidentified officer who arrived on the scene. The suit alleges civil rights violations including assault, battery, and Darrow's false imprisonment when police refused to let him leave and threatened him with arrest.[31]
In November 2011, Kuehnlein was charged with the felony charge of kidnapping, inflicting injury and terrorizing in addition to second-degree domestic assault and two counts of misdemeanor domestic assault. The victim was involved in a romantic relationship with Kuehnlein, who is accused of chocking her, pulling her hair and head butting her. The victim told St. Louis police that he would not allow her to leave from a residence along the 6300 block of Sutherland at about 3 a.m. Sunday, blocked her from the door and continued to hold her down and continued to assault her until he saw a police car outside, according to court documents.[32]
At the time of this posting, Kuehnlein is listed as a police sergeant for the Velda City police department on its website. He is currently out on bond and faces trial on Dec. 19th.[33]
St. Louis City
1981 False arrest leads to execution
Larry Griffin was convicted in 1981, and put to death in 1995 even though the first police officer on the scene, Michael Ruggeri admits to false eye witness testimony. Another man wounded in the attack, Walter Connors, stated Larry Griffin was not at the scene when the murder was committed. Mr. Connors was never called by the prosecutor or defense. The star witness, Robert Fitzgerald, has a long history as a failed jail house snitch. The prosecutor at the time still maintains the right man was executed.[34]
1986 Police Steal Nearly $13k from Innocent Man
In October 1986, police raid the St. Louis home of Gary Miller, based on a tip from a confidential informant. In the course of the search, a Detective Clifford of the St. Louis Police Department steps on an infant baby's head while attempting to search the home's ceiling for drugs.
Police find no drugs or weapons, nor do they make any arrests. Police do, however, seize about $13,000 in cash from Mr. Miller. Under asset forfeiture laws, the police department gets to keep the money. Even though he is never charged with a crime, it is up to Mr. Miller to prove he didn't get the money through drug transactions.
In 1992, the U.S. Eighth Circuit Court of Appeals rules that although there is no evidence of drug use or distribution on the part of Mr. Miller, he failed to prove he earned the money legitimately. The police get to keep the money they seized in the raid.[35]U.S. v. Twelve Thousand, Three Hundred Ninety Dollars, 956 F.2d 801 (1992)
2000 "Bag a Fag"
Robert Boevingloh, a gay 61-year-old disabled Viet Nam veteran with HIV, was arrested in spring 2000, in what some police dub "bag a fag" (entrapment exercises in "gay cruising" spots), Boevingloh says, "I refused to plead guilty to 'lewd and lascivious' because I have this thing about fairness. I felt so violated — even my own sister didn't believe I was innocent."
Boevingloh went to trial without a lawyer "because I thought it was an open-and-shut case — talk about naive!" In court, he says, his arresting officer — the undercover officer to whom Boevingloh had merely said, "What a glorious day!" — testified that Boevingloh made sexual advances, grabbed his crotch and then went into the bushes and lay down. Boevingloh was found guilty and sentenced to two years probation. "During my sentencing, the judge announced to the courtroom, 'Since you have AIDS, you'd better be careful because if you have sex with anyone, you can go to jail for 10 years.' Everybody gasped at me. I never felt so vulnerable," the former vet says.
Boevingloh endured his probation in a state of dread, finally moving to a different city. "Before all this, I had only good feelings about cops. My own brother was a police officer killed in the line of duty," he says. "But now? If this is the justice system in America, it's broken."[36]
2001 Fake drug charges
Reginald Williams, a 15-year officer with the St. Louis Police Department, arrested several people for possession of crack cocaine in August 2001. Williams lied to federal prosecutors about the amount of crack cocaine that one individual possessed and falsely accused two other men of possessing crack when they did not, authorities said. Prosecutors said the arrests were part of a pattern of misconduct dating to 1996. Williams was sentenced to over 6 years in prison for the false charges.[37]
2003 Police silence protesters
See the full story from The Confluence here
On May 16–18, 2003 officers of the St. Louis Police Department took actions which had the effect of suppressing political dissent against the biotechnology industry at Biodevastation 7, the first international conference dedicated to exposing links between environmental racism and the biotechnology industry.[38] They raided the headquarters of the Community Arts and Media Project, which houses The Confluence, the Independent Media Center, and Bolozone. The police:[39]
misused the Building Inspector's authority to gain entry to the office of the Green Party of St. Louis and search it
departed from Department procedure and regulation by not wearing their name badges
violated the First and Fourth Amendment rights: that is, the rights of free speech, free assembly and freedom from unwarranted search and seizure of peaceful activists at 3309 Illinois, 3022–26 Cherokee, several bicyclists near Grand and Arsenal, and a motorist who was taken to jail for not wearing a seatbelt
took 27 people to jail on contrived charges
confiscated an array of materials including roofing nails, a pottery kiln, giant puppets, computer equipment and a kazoo
raided the Bolozone, arrested all those present on bogus charges of "Occupying a condemned property," and caused damage as they searched for weapons
2004 Police illegally remove and arrest homeless
See the main article about homelessness here for more info on the problems facing the homeless in St. Louis
More than a dozen homeless persons, many of them veterans, filed a lawsuit in federal court on Friday, September 17, complaining that the St. Louis Police Department has a policy of attempting to drive the homeless from downtown St. Louis and telling them downtown is "off limits" to them. The suit alleges that St. Louis police officers have routinely arrested the homeless without any suspicion they have committed crimes, have thrown fireworks at them to get them to move from a public park, have taken the homeless to remote areas and dumped them, have taken their food, medication, driver's licenses and insurance cards, have made them engage in forced labor prior to ever seeing a judge, and have generally attempted to remove the homeless from downtown, particularly before major events.[40]
In October 2004, Federal District Judge Richard Webber issued a restraining order requiring St. Louis police to stop the harassment, downtown sweeps of homeless before events, and arrests of the homeless without probable cause.[41]
2006 Abuse of Active-duty Iraq War Soldier
<youtube v="t2_Hlw1ixjs" />
On June 30, 2006, Army Specialist Anthony Collins of Charlie Company's 327th Infantry Regiment was on leave after his first tour in Iraq. He was driving through St. Louis when he came to a police checkpoint. The police signaled to him, but he could not understand what they wanted him to do. So, Collins stepped out of the door to ask what they meant. Upon Collins asking for direction from the officers, the police pepper-sprayed him, threw him to the ground, and arrested him.
Collins was charged only with resisting arrest, and was released from custody. Afterwards he sought treatment at Barnes-Jewish Hospital for injuries received during the arrest. His second tour of duty in Iraq was delayed because of the arrest. Collins is now serving his third tour in Iraq.
The American Civil Liberties Union of Eastern Missouri has filed a federal suit, and contends that the officers on the scene violated Collins' rights under the Fourth and Fourteenth Amendments by subjecting him to unreasonable search and seizure and arresting him without cause.[42]
During an interview of Collins by local journalist Antonio D. French, the same officers that pepper-sprayed and arrested Collins showed up at Collins' residence, entered his garage without a warrant, and proceeded to pepper-spray the cameraman. See video above.
2007 Negligent death of asthmatic woman
In June 2007 LaVonda Kimble was arrested for failure to appear for two traffic stops was found dead in St Louis Police custody, denied Albuterol during an asthma attack by police officers and medical staff of Correctional Medical Services. Paramedics were delayed entry into the St. Louis Justice Center due to accused apathy of the guards to medical situations. No illicit drugs were found on autopsy, and her blood levels of Albuterol were zero, which is contrary to when jail nurses said they repeatedly administered Albuterol to ease Kimble's breathing.
According to jail records, Kimble received three separate treatments of Albuterol, a medication to ease breathing, before she collapsed at 1:25 a.m. Firefighters from nearby Engine Co. 2 arrived at 1:40 a.m. and began CPR. Medic 5 was five minutes behind, but spent seven or eight minutes thereafter waiting to get in, according to a report by fire department paramedic Chastity Girolami. The delay was "detrimental to the patient's outcome," Girolami wrote. She said firefighters told her they had arrived to find nurses trying to perform CPR by compressing Kimble's stomach instead of her chest. Girolami noted that when medics asked a nurse if she had used an automatic defibrillator to try to restore Kimble's heartbeat, "She just looked at us and asked what we were talking about."
Kimble, 30, the single mother of a 12-year-old child, wasn't supposed to be in jail in the first place. Her boyfriend had posted bond for her about 6:30 p.m. on April 10 in Bel-Nor, which had a traffic warrant against her. That was about four hours after her arrest by St. Louis police. But a release order went to the wrong jail, a mistake that wasn't corrected until she was already dying.[43]
2008 Towing Scandal
2008 Illegal Use of Seized Funds
2008 Gold Badge Scandal
2011 New Years Beating
<youtube v="4Q73ZUHBsNA" />
Officer Dustin Ries, working off-duty security at Joel's Shell Food Mart in Benton Park, beat an unarmed man with his extendable baton at approximately 2:30am on New Years Day. The subject was also sprayed with pepperspray, cuffed, and detained. The officer did not file a report, and no record of the use of force or subsequent detainment was made with the StLPD - a violation of department policy. Officer Ries was suspended twice in 2005 for undisclosed violations of department policy. A 2005 civil suit was brought against Ries for striking a man in the head with his baton during a traffic stop in 2004. In 2008 a Federal lawsuit, in which Ries was accused of using pepper spray and his baton on two men while working off duty at Big Bang piano bar on Laclede's Landing, was settled out of court.[44]
A video was taken by a 23 year old man from Kirkwood. The man refused to be identified due to fears of reprisal from police officers. The video is embedded at right.
St. Louis County
2000 Killing of two unarmed men
On June 12, 2000, at 4:45pm, members of the St. Louis County Multi-Jurisdictional Drug Task Force attempted a "drug bust" at a Jack in the Box restaurant in Berkeley. Two men were the targets of the bust: Earl Murray and his childhood friend Ronald Beasley, both 36 years old. When Murray and Beasley saw the officers approach the front of their parked vehicle, they put their car in reverse in an attempt to flee. At this point, a police cruiser blocked their reverse path. After the pair was trapped with a cruiser behind them, and officers in front of them, officers emptied their firearms into the vehicle. The officers claimed that the pair was trying to hit them with the car, but a federal investigation by the FBI showed that the car was only in reverse, traveling away from the officers, and that the police cruiser that blocked them in did so as an intentional move. Additionally, the investigation found that Murray and Beasley were unarmed, and possessed a small amount of crack cocaine.[45][46][47]
The shooting sparked local outrage. The black community called the shootings an execution. The drug legalization community showed this as an example of the drug war gone wrong - that two men were killed needlessly over a small amount of drug. The Riverfront Times gave a scathing criticism about the Drug Task Force's choice to carry out their "bust" at the beginning of the dinner rush at a busy public place. Local activists also showed the shooting as yet another example of the need for civilian oversight boards for local police.[48]
In late 2001, families of the men filed civil suits against the officers and their departments. They had waited 15 months for the FBI to conclude that no criminal act had been committed by the officers, and there was not enough to prosecute them for murder.[49] The result of the suit is not yet known.
2008 Off-duty cop pulls gun on parking attendant
At 1pm on March 17th, 2008, off-duty St. Louis County police officer Ryan O'Connor attempted to park at a parking lot at a strip mall on 6600 Manchester Road in order to attend the St. Patrick's Day parade in Dogtown. When the officer was told he could not park there by a the parking lot's manager, he said he was a police officer, and that he would park there. Ousseynou Ba, the manager, said it didn't matter that he was an officer, and that he still couldn't park there. The officer walked back to the car, produced a "small silver" gun, and pointed it at Ba's face. He said "So, what are you going to do now?", and used racial slurs while yelling at Ba. The officer parked in the lot anyway, and left the area with a woman and a child in a stroller. Ba called the police, and St. Louis City police arrived and had the car towed. The St. Louis City Police identified the officer as a St. Louis County Police officer, but refused to give the his name. St. Louis City police applied for a warrant for "flourishing a weapon" and the case was under advisement by the St. Louis Circuit Attorney's Office.[50]
It was announced on 4/2/08 that Officer Ryan O'Connor, 34, of the St. Louis County PD was charged with third-degree assault, a misdemeanor.[51] If convicted, O'Connor faces 15 days in jail and/or a $300 fine. On 4/4/08 it was pointed out in a Post-Dispatch article that Office O'Connor was spared a felony charge due to his status as a police officer and a 2003 amendment to the state concealed carry law that exempted off-duty officers from being prosecuted for crimes such as shooting from a vehicle, carrying a gun into a school or waving a gun in public.[52] If O'Connor had been a civilian, he would have faced a felony charge of unlawful use of a weapon.
On 4/28/09 it was announced that O'Connor is serving one year probation for this incident.[53]
2008 Sexual Assault by Officer
In the early morning hours on Thursday, April 9th, 2008, a woman claims to have been sexually assaulted by a St. Louis County police officer. At a mutual friend's apartment, the two had been drinking with others. Around 2:30am, the two engaged in consensual sexual activities. After this, the woman went to the bathroom. She claims that the officer followed her there, and proceeded to force her into more sexual activity while hitting her. "He was just hitting me and my lip was messed up and bloody and it was because it was turning him on," she said. According to the victim, her blood, saliva, and mascara covered the officer's uniform by the time the attack was over.
The unidentified officer has been suspended, pending an internal affairs investigation.[54]
2008 Furnishing Pornography to a Minor
On April 8, 2008 an unnamed St. Louis County officer was arrested and immediately fired for furnishing pornography over the internet to someone he thought was a 14 year old girl. The girl was really a Maryland Heights police officer. The StL County officer had just been hired on October 5th, 2007, and he was still in his probationary period as a new hire, thus his employment could be immediately terminated. The officer's identity remains anonymous, but it was confirmed that he is from St. Peters. He was released pending application of warrants.[55]
Sunset Hills
2009 Wrong-way Driving kills 4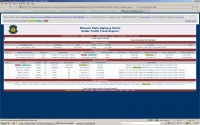 At 1:45 a.m. on March 21, 2009, Sunset Hills Police Officer Christine L. Miller (of 816 Barby Lane, Kirkwood) was traveling east in the westbound lanes of Dougherty Ferry Road at a high rate of speed. Near Des Peres Road, her Mitsubishi Eclipse struck a car head-on that contained five people. Anusha Anumolu, 23; Anita Lakshmi, 23; Prya Muppvarapu, 22; and Satya Chinta, 25 were pronounced dead at the scene. Nitesh Adusumilli, 27, was also in the vehicle and sustained moderate injuries. Officer Miller was in critical condition.
As of April 28th, 2009, the St. Louis County Prosecutor has not decided if he will press charges against Miller or not.[56] The results of a blood test for alcohol have not been made public. Sunset Hills Police Chief William E. LaGrand said that Miller had a dozen years of experience and a clean record.[57]
Curiously, the Highway Patrol has removed the accident report from public view on their website, despite their own website stating "All information on accident reports is considered an "open record" and cannot be withheld from the public."[58] A cached version was found, and a screenshot of that is at right.
Velda City
2006 Beating of inmate
On July 31, 2006, Velda City police officer Lewis McGee and detective Mark Winger, while acting in their capacities as law enforcement officers, conspired to physically assault a jailed man who was being detained at the Northwoods Police Department. While McGee held the victim on the ground with his foot, Winger struck the victim multiple times causing him bodily injury. McGee and Winger then made false statements to a special agent of the Federal Bureau of Investigation to cover up their roles in the conspiracy and assault. Both McGee and Winger were both convicted to conspiracy to violate the civil rights of a jailed man.[59]
Washington Park, IL
2008 Cop Sodomizes St. Louis Boy
On April 24, 2008 it was reported that Washington Park Officer Juan McCoy was taken into custody for sodomizing a boy in St. Louis. The abuse took place in the 3700 block of Winnebago between June 2007 and August 2007. McCoy is in the custody of the Illinois State Police, and faces a charge of second-degree statutory sodomy.[60]
See Also