St. Louis County
From WikiLou
As of 2000, the population of St. Louis County was 1,016,315, making it the most populous county in Missouri. This county is notable for its 400 private-street associations. Its county seat is Clayton. St. Louis County is part of the St. Louis Metro Area and borders the City of St. Louis, which is independent from St. Louis County.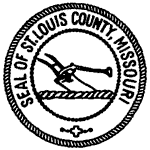 Origin
The county was organized in 1812 and was originally a Spanish colonial district, named for Saint Louis, King of France. In 1876, City of St. Louis separated itself from the county, creating an independent city.
Law and Government
St. Louis County was the first Missouri County to adopt a home-rule charter under the Missouri constitution, in 1950. The current St. Louis County Charter was adopted by the voters on November 6, 1979.
Executive power of the county is vested in the county executive, which is a full-time salaried position. The current county executive (as of January 2015) is Steve Stenger. The county executive's term is 4 years, and the position is elected by the general population of the county.
Ordinances are passed by a county council. The council is made up of 7 members, each from a separate district within the county. Council member terms are 4 years, beginning on January 1 following the election. Elections are held in even-numbered years, with terms for even- and odd-numbered districts staggered. The current Chairman of the Council is Michael O'Mara.
Demographics
As of the census of 2000, there were 1,016,315 people, 404,312 households, and 270,889 families residing in the county. The population density was 2,001/mi². There were 423,749 housing units at an average density of 834/mi². The racial makeup of the county was 76.83% White, 19.02% African American, 0.17% Native American, 2.22% Asian, 0.02% Pacific Islander, 0.47% from other races, and 1.26% from two or more races. Hispanic or Latino of any race were .83% of the population.
There were 404,312 households out of which 31.60% had children under the age of 18 living with them, 51.00% were married couples living together, 12.70% had a female householder with no husband present, and 33.00% were non-families. 28.00% of all households were made up of individuals and 10.10% had someone living alone who was 65 years of age or older. The average household size was 2.47 and the average family size was 3.05.
In the county the population was spread out with 25.20% under the age of 18, 8.30% from 18 to 24, 29.00% from 25 to 44, 23.50% from 45 to 64, and 14.10% who were 65 years of age or older. The median age was 38 years. For every 100 females there were 90.00 males. For every 100 females age 18 and over, there were 85.70 males.
The median income for a household in the county was $50,532, and the median income for a family was $61,680. Males had a median income of $45,714 versus $30,278 for females. The per capita income for the county was $27,595. About 5.00% of families and 6.90% of the population were below the poverty line, including 9.30% of those under age 18 and 5.30% of those age 65 or over.
Education
Unified School Districts
Riverview Gardens
Special School District
University City
Valley Park
Webster Groves
Wellston (forced to merge with Normandy in 2010-2011 school year by Missouri Board of Education)
High Schools
St. Louis has an abundance of exceptional private schools.
Many private schools in the area are religiously affiliated institutions. Owing to its status as an archdiocese and historically Catholic region, many children attend parochial grade schools. For secondary education, many students attend single-sex Catholic high schools, including:
For boys:
For girls:
There are also other private schools with other religious affiliations, such as:
St. Louis also has many excellent secular private schools, which are mostly co-ed, including:
These do not include the arcdiocesan-run high schools (co-ed) or the public high schools (see above for districts)
See Also
External Links