St. Louis Steamers
From WikiLou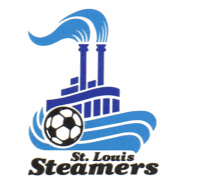 The St. Louis Steamers are a professional indoor soccer team based in St. Louis. An earlier St. Louis Steamers team played in the original Major Indoor Soccer League from 1979-1988.
The St. Louis Steamers were granted a World Indoor Soccer League expansion franchise in December 1998 but did not begin play until the 2000 season. Along with the Dallas Sidekicks and San Diego Sockers, the team joined the Major Indoor Soccer League when the two leagues merged. However, the Steamers elected to take a year to reorganize.
Prior to the 2004-2005 season, the team was purchased by owners planning a reality television series about the team, which was called Red Card and played on a local cable channel. The team will also sit out the 2006-2007 season to look for new investors.
Honors
Championships
Division Titles
2005-2006 MISL Regular Season
Year-by-Year
| Year | League | Reg. Season | Playoffs | Avg. attendance |
| --- | --- | --- | --- | --- |
| 2000 | WISL | 5th WISL, 9-15 | Lost Semifinal | 5,398 |
| 2001 | WISL | 3rd WISL, 11-13 | Lost Semifinal | 4,812 |
| 2003-04 | MISL | 3rd Central, 14-22 | Failed to qualify | 3,483 |
| 2004-05 | MISL | 4th MISL, 20-20 | Lost Semifinal | 4,794 |
| 2005-06 | MISL | 1st MISL, 23-7 | Lost Championship | 5,675 |
Head Coaches
Arenas
External Links