Ted Drewes
From WikiLou
Ted Drewes is a well-known frozen custard shop in St. Louis. The original was established in 1930 on Natural Bridge Road, with a second location following the next year on South Grand. A decade later, a third location opened on historic Route 66 (on the segment also known as Chippewa). The Natural Bridge location closed in 1958.
Ted Drewes is famous for a specialty called a "concrete", which is custard blended with any of dozens of ingredients, and served in a large yellow cup with a spoon and straw. Concretes are blended so thick that they do not fall out when their cup is turned upside-down; servers often demonstrate this before handing customers their order.
According to Ted Drewes, Jr. as quoted on the official website, he has fielded numerous requests to turn the small chain into a nationwide franchise but has refused. He notes that "It is a matter of quality. Franchising could lead to mediocrity."
In the weeks leading up to Christmas, Ted Drewes also sells live Christmas trees from the parking lot. The trees are noted for their quality, but are more famous for offering a free cup of custard to children whose families purchase a tree from the lot.
The majority of products at both locations are certified Kosher-Dairy by the Vaad Hoeir of St. Louis.
Locations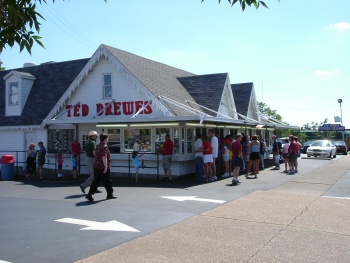 Chippewa
6726 Chippewa
St. Louis, MO 63109
Phone: 314-481-2652 or 314-481-2124
Hours
11:00 am (Feb-Dec)
Grand
4224 S Grand Blvd.
St. Louis, MO 63111
Phone: 314-352-7376
Hours
11:00 am (Summer Only)
External Link
Map
Map showing both locations: <googlemap lat="38.584942" lon="-90.275002" zoom="13" width="700" controls="large">38.589439, -90.307679 38.580134, -90.244325, 4224 S Grand Blvd St Louis, MO</googlemap>