The Hill
From WikiLou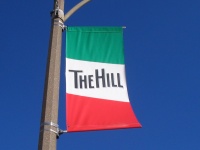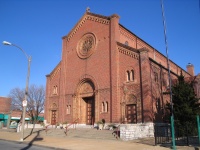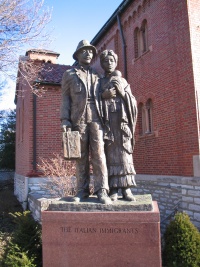 The Hill is a mostly Italian-American neighborhood within St. Louis, located on high ground south of the River des Peres and Interstate 44. The traditional boundaries of the area are Shaw Boulevard on the north, Columbia and Southwest Avenues on the south, South Kingshighway Boulevard on the east, and Hampton Avenue on the west.
Its name is due to its proximity to the highest point of the city, formerly named Saint Louis Hill, which is a few blocks south, at the intersection of Arsenal Street and Sublette Avenue. The intersection borders Sublette Park, the former site of the Social Evil Hospital built there in 1873.
Italians immigrated and settled in the area starting in the late 19th century, attracted by jobs in nearby plants established to exploit deposits of clay discovered by immigrants in the 1830s.
With the growth of Italian immigrants came the growth in the influence of the Roman Catholic Church. By the time a new structure was built for what became known as St. Ambrose in 1926, the church had already been a force in the area for over twenty years. The structure [1] is modeled after San Ambrogio Church in Milan, in an Lombard-Romanesque style of brick and terra cotta. It became the parish church for the area in 1955, after thirty years of focusing on those of Italian heritage.
That heritage remains evident today. As of May 2003, about three-quarters of the residents are Italian-Americans, helped perhaps by the practice of rarely listing homes on the open market [2]. The neighborhood is home to a large number of locally renowned Italian restaurants, bakeries, grocery stores, and two bocce gardens.
Baseball greats Yogi Berra and Joe Garagiola grew up on the Hill; their boyhood homes are across the street from each other on Elizabeth Avenue. Four of the five St. Louisans on the US soccer team that defeated England in the 1950 FIFA World Cup came from here, a story that is told in The Game of Their Lives, a book (ISBN 0-8050-3875-2) and 2005 docudrama. The movie's title was "The Game of Their Lives" in theaters and has been renamed "The Miracle Match" for the now-available DVD.
According to Joe Garagiola's book, Baseball is a Funny Game, the Hill was called "Dago Hill" by some non-Italians. Casually used in public into the late 1960s/early 1970s, the phrase is now considered offensive, and is rarely used today.
External Links
The Sausage Factory was located in the Hill
Video
KETC video about the Hill: <youtube v="c0FvbM_-Gb8" />
Map
General area of The Hill: <googlemap lat="38.618403" lon="-90.276614" zoom="13" width="700" controls="large">38.618403, -90.276614, The Hill, St. Louis, MO, USA</googlemap>