Uhrig's Cave
From WikiLou
Uhrig's Cave, opening beneath Jefferson and Washington Streets, was the most elaborate of the Caves of St. Louis. At various stages, it was associated with the Camp Springs Brewery (owned by the Uhrigs), then it contained a beer garden, and eventually a 300-seat theatre.
First Owners
The original Uhrig's Cave was a storage and beer aging space for the Camp Springs Brewery. The space was 40 feet underground, and was connected to the Brewery through a series of other caves. Connecting the two cost $100,000, and a small railroad entirely within the cave system transported beer from the brewery to the cave. The cave space was 170 feet long, and the Uhrig brothers constructed brick walls with arched ceilings to prevent water seepage. By 1852, the Uhrigs held band concerts and picnics and conducted tours through the cave. The theatre was the scene of the American premiere of Gilbert and Sullivan's 'H.M.S. Pinafore.'
Second Owners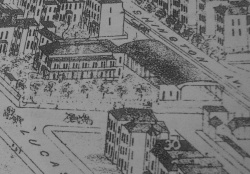 In the 1860s the cave property was sold to Chris Nunce. During the Civil War, the tours, concerts, and picnics were put on hold, and the cave became a favorite rendezvous for the militia and the Home Guards. By 1879, the cave once again regained its antebellum popularity and the little beer garden had become a true opera theatre.
Third Owners
In 1884, the site was sold again to Thomas McNeary, a saloonkeeper. He and his brother became impresarios as well, and ushered in the period of Uhrig's Cave's greatest glory. Uhrig's was the first entertainment spot in St. Louis to use electric lights. At its peak, Uhrig's Cave held an audience of three thousand. Popular entertainers of the day, such as John Drew, Julia Marlow, Augustin Daly, and Della Fox were among the stars that appeared on Uhrig's stage.
But this period of glory was short-lived. In 1888, the McNearys lost their liquor license and the cave was abandoned for a time. From 1900 to 1908, the cave was the site of an enclosed theatre, a roller-skating rink, a bowling alley, and a mushroom farm. Eventually, the McNearys abandoned all attempts to keep Uhrig's Cave open.
The site retained its civic importance (although above ground) when the St. Louis Coliseum was built over the Cave in 1908, destroying it.
Post-Destruction
During 1954, when the Jefferson Bank and Trust Company building was being constructed on the site, it was discovered that some of the smaller passageways of the caves had been sealed off during the Prohibition when a still was discovered in an adjacent cavern at Jefferson and Delmar. A connecting tunnel had once served as a secret entrance for bootleggers and one of the rooms beneath Eighteenth Street was thought to be a speakeasy of some sort.
Map
A current satellite view of the former location of Uhrig's Cave. <googlemap lat="38.635159" lon="-90.213643" zoom="17" width="700" controls="large">38.634807, -90.213708, Current map showing the former site of the Cave</googlemap>
References
Lost Caves of St. Louis: A History of the City's Forgotten Caves by Hubert and Charlotte Rother
Sidestreets St. Louis by M. M. Constantin