Washington Avenue Loft District
From WikiLou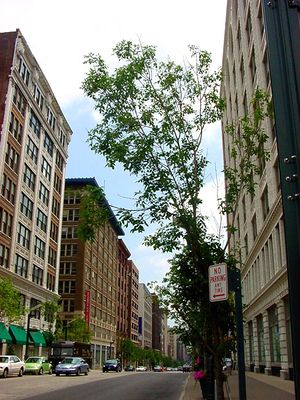 The Washington Avenue Loft District is a portion of St. Louis, located on the northern and western edge of the city's downtown. The neighborhood is listed on the National Register of Historic Places.
The District is bounded by Delmar Boulevard to the north, Locust Street to the south, 8th Street on the east, Jefferson Avenue on the west, and is bi-sected by Washington Avenue in the center.
Most of the buildings in the area were built between 1880 and 1920, as warehouses when the area served as the city's garment district. Most are large multi-story buildings of brick and stone construction. Many have terra cotta accents on their facades. After World War II, the decline in domesic garment poduction, and the preference for single story industrial space lead to many of the buildings being vacant or underutilized due to their functional obsolescence.
The area began to experience some redevelopment in the 1990's. In 1998, the state of Missouri adopted a tax credit program that provides financial incentives for the redevelopment of historic buildings. This made the large-scale renovation of many of the buildings financially feasible. Local and national developers have acquired many buildings along Washington Avenue and in other parts of downtown. The buildings are being redeveloped with loft style condominiums and apartments.
Video
KETC video about the lofts on Washington Ave.: <youtube v="yLvU26esAS4" />
External Links