Wrestling at the Chase
From WikiLou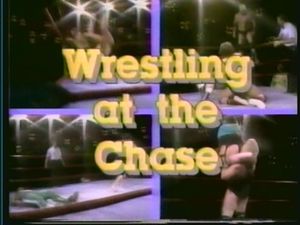 Wrestling at the Chase was a professional wrestling television series that aired in St. Louis. The matches were taped live on Saturday nights as well as televised. It was repeated traditionally on Sunday mornings. It was promoted by the St. Louis Wrestling Club, which was a member of the National Wrestling Alliance.
The show was the brainchild of Sam Muchnick, president of the St. Louis Wrestling Club, and Harold Koplar, who owned KPLR and the old Chase Park Plaza Hotel. The two were together on an airplane in 1958 and wondered how they could put wrestling into St. Louis area homes.
The Program
The Series began in May 23, 1959 and ran until September 10, 1983. KPLR-TV, Channel 11 produced and televised the matches, which were held at the Chase Park Plaza Hotel in the Central West End and televised at 10:00 am. Conveniently, the KPLR Studios were in an adjacent connecting building. The show produced approximately 1,100 episodes over its 24 years.
Personnel
Joe Garagiola was the initial play-by-play commentator. When he left in 1953, Don Cummingham took his place. The following year, Cummingham was replaced with George Abel. He was joined by Larry Matysik in 1972, who was a part time police officer in Belleville. Ring announcers included John Curley, Eddie Gromacki, and Joe Garagiola's brother Mickey Garagiola.
The show featured many of the most famous wrestlers in the NWA. Participants included Ric Flair, Harley Race, "Cowboy" Bob Orton, Dick the Bruiser, Bruiser Brody, Gene Kiniski, Lou Thesz, and Ted DiBiase.
WWF Tapings Held at The Chase
In January and February 1984, a few episodes of the show were produced from WWF tapings held at the Chase. The first of these shows featured Hulk Hogan's return match after three years in the AWA.
Legacy
Wrestling at the Chase was consistently one of the highest rated television shows in St. Louis. Among local shows, It was third behind the local news and St. Louis Cardinals baseball games. The show often had over 100,000 viewers per episode. It is considered one of the pro wrestling industry's most historic programs.
As of 2009, 12 Volumes of the program have been released for sale. In 2005, Larry Matysik's book Wrestling at the Chase: The Inside Story of Sam Muchnick and the Legends of Professional Wrestling was published by ECW Press.
Photos of Wrestling at The Chase